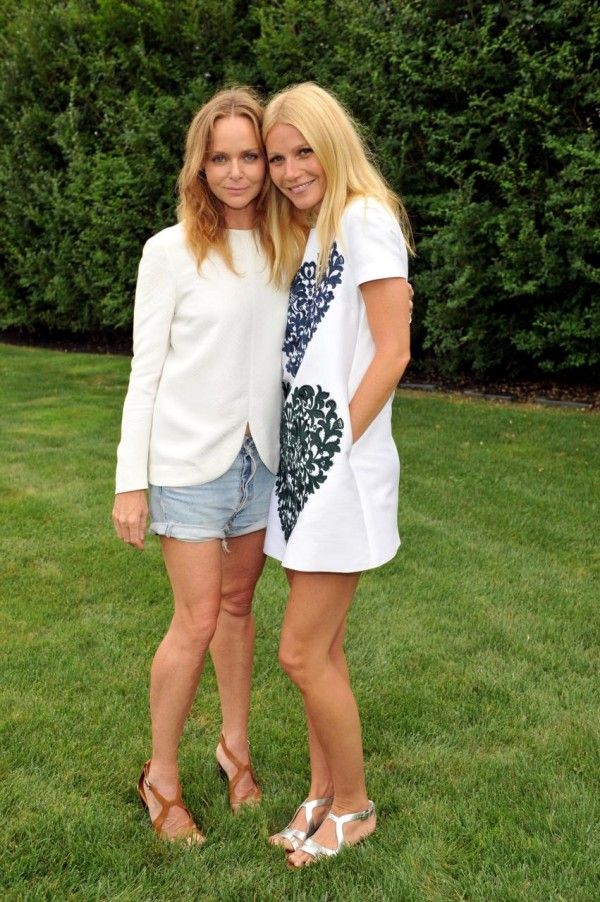 On a crazy cold March day, American actress, singer, writer and owner of the lifestyle publication Goop, Gwyneth Paltrow met British fashion designer Stella McCartney and her team at her London studio where the duo got started designing a special Stella x Goop collection.
The Stella McCartney x goop capsule line includes exclusive iconic styles such as classic black blazer, a charcoal grey knit all- in-one, a black wool trouser and organic cotton denim. It also features the new Beckett shoulder bag and clutch from Winter 2013, created using McCartney's latest sustainable material – "Eco Faux Nappa".
"Sometimes in life you get a girlfriend who becomes like a sister. Someone who really sees you. Who is as honest with you as they are loving. Who shares a similar world view, who has similar values. Who is a bit of a life raft when you live in a country that you lovingly adopt, but is not your own. Who also happens to be hilarious and a bit naughty and is constantly trying to get the balance of everything right, just like you are. Who is also one of your favorite designers ever, who has a ruthless eye and makes perfect, perfect things. Stella is that girl and so much more. I convinced her to do a collaboration, a very mini capsule collection of some beautiful, covetable things," explained Gwyneth Paltrow.
"Our first collaboration with Stella McCartney is the result of a longtime friendship between Gwyneth and Stella. A collaboration between their brands is a natural fit. As Stella says, "In order to create pieces that are effortless, it's very considered. Gwyneth was a huge part of that. This is a big reflection of her life"
To celebrate Gwyneth Paltrow's first capsule collection with Stella McCartney, the designers threw an English Garden Party in the Hamptons. Guests including Sarah Jessica Parker, Cameoron Diaz, Naomi Watts, Paul McCartney and Blythe Danner played lawn games to jazz age music while the kids enjoyed picnics and play areas.
Gwyneth started goop in the fall of 2008 to share all of life's positives. From creating a delicious recipe to finding a perfect dress for spring, Gwyneth began curating the best of lifestyle to help her readers save time, simplify and feel inspired.