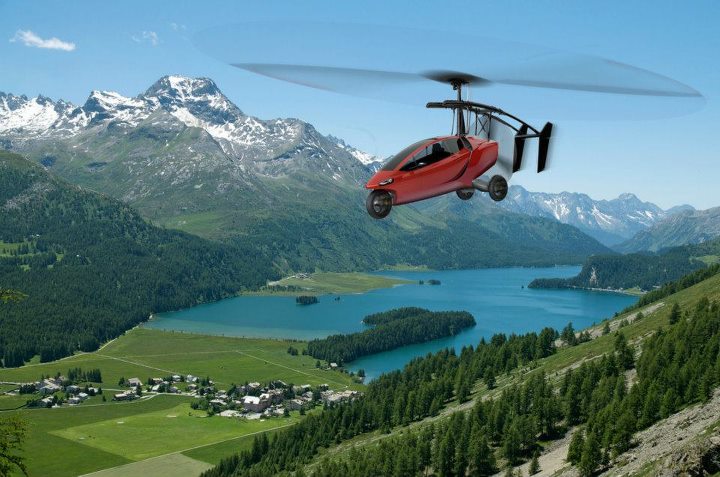 The ideea of flying car is in the air and it becomes clear that it is shaping the future of urban mobility. After the US-based Terrafugia said they had successfully tested their own street-legal plane called the "Transition", the gyrocopter of a Dutch company has just proved it can handle the skies as well as the highway.
The Personal Air and Land Vehicle (PAL-V) is a two seat hybrid car and gyroplane: a personal air and land vehicle. It can fly as far as 500 kilometres at an altitude of up to 1,200 metres. When it lands, it tucks away its rotor-blades and turns into a road-legal three-wheeled vehicle with a range of 1,200 kilometres.
When airborne, the PAL-V usually flies below 4,000 feet (1,200 m), the airspace available for uncontrolled Visual Flight Rules (VFR) traffic; so there will be no interference from commercial air traffic. Furthermore, the PAL-V is powered by a robust, flight certified aircraft engine. It runs on gasoline. It can reach speeds of up to 180 km/h (112 mph) both on land and in the air.
"In future, you will be able to drive from home to the airport, take off, land and then drive to your destination in one go," said Robert Dingemanse, chief executive of the company, also called PAL-V.
"The successful maiden flight of the PAL-V protoype was conducted at a Dutch Air Force base last month," added the head of the company, based in Raamsdonksveer near the eastern city of Nijmegen.
"It will revolutionise the era of personal air travel," said Jacco Hoekstra, dean of the aerospace faculty at Delft Technical University, which with the Dutch National Aerospace Laboratory cooperated on the project.
"Before, air travel was mainly based on public transport," Hoekstra said. "Now it will become a lot more personal — you will simply be able to walk out your door, drive to a small airfield and fly away."
PAL-V Europe NV started in 2001 to design a roadable aircraft. It evaluated many potential technologies and created numerous concepts in cooperation with well-known research institutes and universities. The most important breakthrough was the maturing of the DVC tilting technology in 2005. This brought into reach the design of a real flying car instead of a roadable aircraft. This technology allowed for safe driving without compromises while having a high centre of gravity and a narrow aerodynamic shape necessary for flying. The first real "flying car" concept was born.