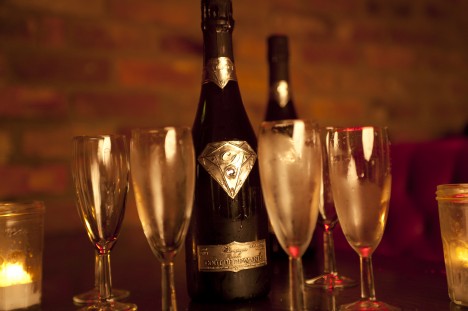 A £1.2 million 19-carat diamond encrusted on a bottle of "Goût de Diamants" champagne catapulted it among the most expensive champagne bottles of the world. The customized item is the creation of Alexander Amosu, whose company Amosu Luxury designs customized luxury phones, iPhones, $26,000 Diamond Blackberry, and the most expensive luxury suit with gold thread.
A "normal" Goût de Diamants champagne logo is adorned with a Swarovski crystal. The new Amosu-designed bottle with Superman- style signature logo is handcrafted from 18-carat solid gold and decorated with white diamond weighing 19 carats. The unnamed private client has also a label from 18-carat solid white gold with its name engraved on the bottle. World's most expensive champagne is a blend of Grand Cru Chardonnay, Pinot Meunier, and Pinot Noir.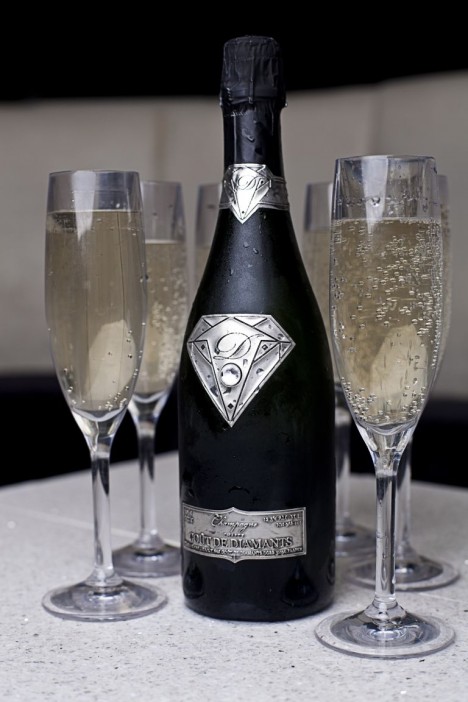 "The bottle already has a distinctive look with its natural design, all I had to do is bring it to the next level of ultimate luxury," said Alexander Amosu.
"All our bottles come as standard with an exquisite diamond-themed bottle design encrusted with a diamond cut Swarovski crystal. We wanted to take it one step further and create a one off masterpiece for one of our private wealthy clients and we are very pleased with the results," said Shammi Shinh from Goût de Diamants.
Made with 100% rated Grand Cru grapes, Goût de Diamants is a handmade luxury champagne from a family run estate from Oger, France. Goût de Diamants Prestige Cuvées include Brut Diamond, Rosé Exquisite, Blanc de Blancs Diamond, and Vintage Diamond.