Born in 1974? This gift is for you.
For more than 170 years, Glenmorangie has been revered for the wondrous whiskies it creates from its purer, smoother spirit, matured with dedication and vision in the Scottish Highlands. The skill which brings these whiskies into existence is never more evident than in Glenmorangie's Pride series – a unique collection of its most rare and treasured creations. The most prestigious of these is Glenmorangie Pride 1974.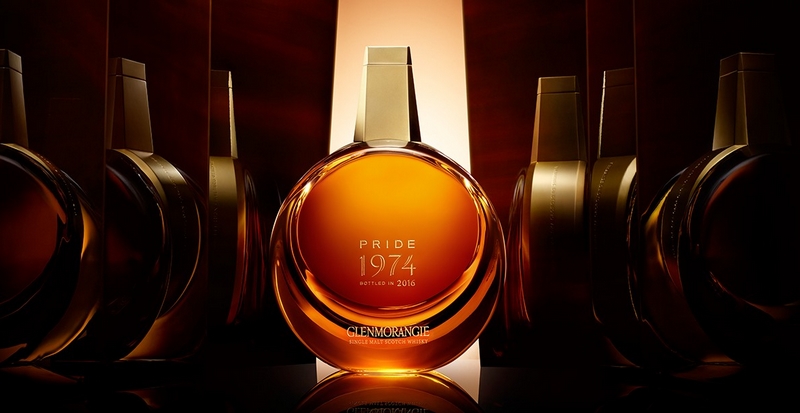 THE LONGEST MATURATION
The whisky's auspicious spirit first came into being more than four decades ago, as its light, elegant vapours rose to the very top of Glenmorangie's towering copper stills – the tallest in Scotland. On October 30,1974, this delicate distillate was carefully laid down by Glenmorangie's select craftsmen, the Men of Tain – one parcel in the finest American oak ex-bourbon refill casks, another in Spanish ex-Oloroso sherry casks of the highest quality. And, in the quiet of a warehouse, on the peaceful shores of the Dornoch Firth, it began a masterful 41-year maturation – longer than any which Glenmorangie had achieved before.
AGED TO PERFECTION
More than a generation later, Glenmorangie's acclaimed Director of Distilling, Whisky Creation & Whisky Stocks deemed that these venerable parcels had finally reached their utmost potential. Guided by his instincts and his wealth of experience, Dr Bill Lumsden explained: "When I tasted the stock, it was clear to me that the whisky had reached a sublime level of completeness."
Each of the parcels revealed to him its own intriguing characteristics, informed by its great age. "The parcel matured in ex-bourbon casks displayed a wonderfully surprising finesse," he said. "Many of Glenmorangie's signature flavours such as citrus fruit and honey were present, but in some respects it was as if they had been baked together, for deeper, more intense flavours. Meanwhile, the parcel matured in Oloroso casks had an astonishing power, with many, many of those classic sherry-cask notes, such as toffee, dates, chocolate and myriad spices."
REFLECTING THE PAST
With the creativity and skill for which he is renowned, Dr Bill Lumsden began to envisage how these parcels might come together in Glenmorangie Pride 1974. "I wanted the recipe to reflect the way in which whisky was made back in the days when the spirit of this expression was first distilled," he mused. "In those days it was more common for a range of different cask types to be vatted together, so I set out with the aim of trying to skillfully marry together these two very distinct cask types, to create the harmony that I knew they could achieve. As I had hoped, the parcels came together in a beautifully synergistic way. Their individual characters have intertwined to take the taste profile of Glenmorangie Pride 1974 to unforeseen heights – far greater than the mere sum of its parts."
The collection began with Glenmorangie Pride 1981, matured for 18 years in Glenmorangie's finest oak casks, then extra- matured for a decade in Sauternes barriques from the fabled vineyards of Chateau d'Yquem. At the time, this was the longest finishing period of any Glenmorangie. Next came Glenmorangie Pride 1978, taking extra-maturation to new levels. After 19 years in American oak ex-bourbon casks, it spent 15 years in five casks which once held a Premier Grand Cru claret. Now, follows Glenmorangie Pride 1974, with its own exquisite story.
Dr Bill Lumsden added: "I am immensely proud of this whisky – a single malt crafted and timed to perfection. From first sight, its maturity is unmistakable in its depth of colour. Those 41 years in casks bring aromas of an unsurpassed richness, wonderfully salty and spicy. Yet the whisky's intense depths are perfectly balanced by a smooth elegance and finesse. Glenmorangie Pride 1974 is truly a single malt beyond comparison."