To spend a wonderful holiday in a place like Siena, one of the most sought-after destinations in Tuscany by worldwide tourists, I think it's useful to plan in advance an itinerary through its historic center, taking advantage of a medieval hamlet full of hidden gems, listed by Unesco as World Heritage Site.
You can easily follow this route on a day enjoying Siena to the utmost.
I stayed at the Palazzo Ravizza Hotel, a Relais in the historic center of Siena, very close to churches, museums and other attractions recommended by the hotel's staff, in addition to the most famous spots such as Piazza del Campo, the Duomo and Santa Maria della Scala, to name a few.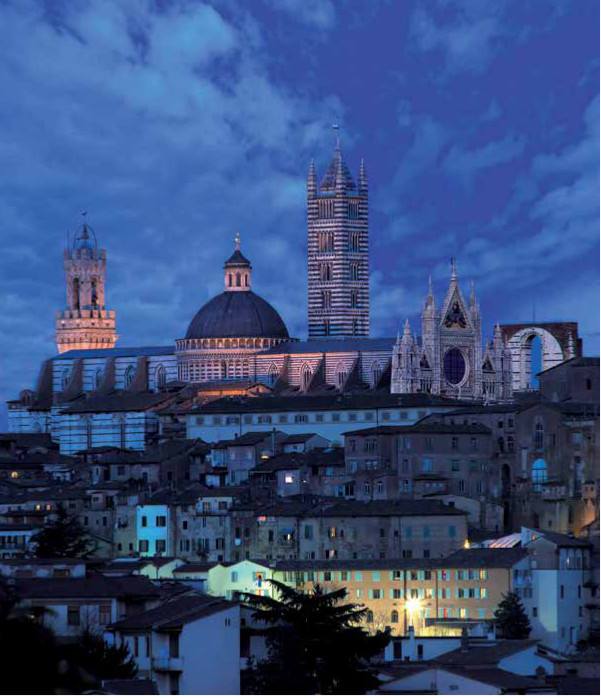 How to Get to Siena
Who has never been to Siena should know that you can get there by train or bus, and then move by walk in the center. Alternatively, for those arriving by car, it's essential to know where to park, as the historic center is a restricted traffic zone (called ZTL in Italy).
The free parking lots are located on the Strada Laterina (15 minutes away from Piazza del Campo), along Viale Mario Bracci and at Strada di Malizia, outside the historic center.
Alternatively, there are paid parking lots at the train station (the largest and cheapest in town), at the stadium and at the Parking Santa Caterina, near the Sanctuary and the Church of San Francesco, all open 24 hours.
The museums of Siena's contrade
When I think of Siena, the first thing that comes to mind is Palio, an event that is much more than a horse race, since each Sienese has a strong sense of belonging to his own contrada. Therefore, to better know the history of each contrada (which may be compared to a "neighborhood", although they are much smaller) is a chance to be seized when you are on vacation.
There are 17 museums of the contrade in Siena, each one houses costumes, historical documents, relics and Palios won.
The most important thing to know is that you have to book a week in advance a free visit, so I suggest you to check this list with the contacts of all the museums: http://www.terresiena.it/en/museums/item/musei-di-contrada.
The Sanctuary of Saint Catherine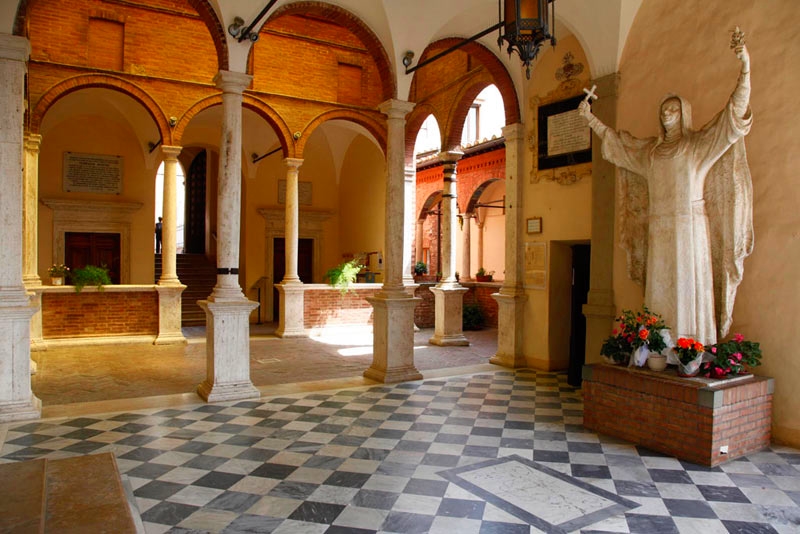 Saint Catherine is an important figure not only for the history of Siena, as it is also patroness of Italy and Europe. So you shouldn't miss a stop at the Sanctuary, where there is also the home of Benincasa (the Catherine's family) various porches and churches.
The entire complex is open to visitors and includes the neo-Renaissance porch built in 1947, the church of the Crucifix, dating from the XVII century, and the kitchen oratory, where happened the first miracle related to Saint Catherine.
Here, in fact, Catherine fell during one of her ecstatic trances, but she was miraculously unharmed. The sanctuary is located in Costa Sant'Antonio, near Fontebranda.
Museum of the Biccherna Tablets
What are the Biccherna tablets? This is the explanation: it is a name referring to financial magistrature of the city and in particular to wood tablets painted and used as covers of the administration registers.
For once, then, art and bureaucracy are not in conflict and today you can see these artifacts in the museum inside Palazzo Piccolomini, at Via Banchi di Sotto 52.
The museum is open weekdays, from Monday to Saturday, with scheduled entrances at 9:30 am, 10:30 am and 11:30 am. The tour allows you to discover a particular strand of Sienese painting, since each tablet reproduces an event or an historical figure connected to Siena. All the works cover a period of four centuries and were made between 1258 and 1682.
Academy of Fisiocritici
Founded on March 17th in 1691, the Academy of Fisiocritici gathered scientists who were trying to study the origins of natural phenomena through experimental verification. Later, the Academy developed the Natural History Museum, which is one of the lesser known wonders of Siena.
Open to the public from Monday to Friday, from 9:00 am to 1:00 pm and on other special occasions, the museum  also offers themed guided tours dedicated to zoology, astronomy and medical science.
The Academy is located in Piazzetta Silvio Gigli 2, next to the Botanical Garden of the University, which is  also open to visitors (entrance with a ticket).
Zest Restaurant & Wine Bar
The best way to celebrate your holiday in the land of Chianti and other top wines (such as Vernaccia di San Gimignano, Vino Nobile di Montepulciano and Vin Santo) is having a dinner in an elegant restaurant with local dishes and a prestigious wine list.
I recommend Zest, located in front of the Sanctuary of Saint Catherine in Costa di Sant'Antonio 13, a modern restaurant and wine bar with a touch of classicism.
Zest offers menus based on Tuscan tradition and a wine list including a selection of DOCG wines and excellent vintages, the best choice for a toast with your loved one. Furthermore, Zest has a terrace where to enjoy a romantic view on Siena's alleys and the Cathedral on the backdrop.
Treat yourself to a holiday in the town of the Palio to appreciate all the peculiarities that make it unique.