Frédéric Jouvenot Helios winner watch pays tribute to the cult of the sun in the ancient world
The Geneva Time Exhibition Superwatch Award – GTE 2011 jury unanimously voted Frédéric Jouvenot's Helios as the most accomplished independent watch in terms of design, avant-garde nature and technique. Ressence and Heritage Watch Manufactory were named runners-up. Research is one of the Switzerland strong-points, and in this context GTE is highly significant.
Frédéric Jouvenot Helios watch pays tribute to the cult of the sun in the ancient world. When the day and the night join to reveal a display of Haute Horlogerie. The watchmaker Frédéric Jouvenot is offering a display in three dimensions represented by two inseparable phases, night and day.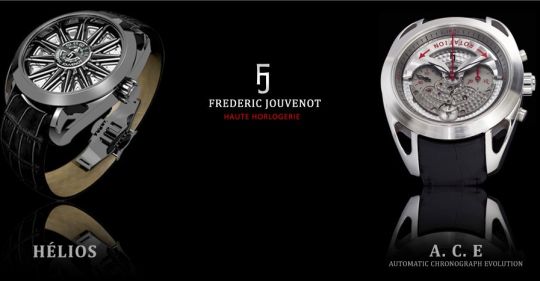 Easy to read but with a complex mechanism, this timepiece named "Helios" contains two designs corresponding to the cycle of day and night. The depth of the face enables a realization in relief and, for the first time in the history of watch-making, a display that uses neither hands nor discs.
The Geneva Time Exhibition Superwatch Award 2011 jury was composed of six internationally respected watch experts: Anders Modig (Chairman), Editor of Plaza Watch; Elizabeth Doerr, watch journalist and writer; Jean-Marc Wiederrecht, independent watchmaker; Axel Kufus, Professor of Design at Berlin's Universität der Künste; Mohammed Abdulmagied Seddiqi, representing Ahmed Seddiqi & Sons, the leading watch distributors in the Middle East; and Geoffroy Ader, Head of the Watch Department at Sotheby's Europe. 
No fewer than 27 watchmakers entered the competition. With so much excellence to admire, the jury had a tough task in selecting the winner. Many of the watches presented will be around for a long time:  Artya, Aspen, Boegli, Bulova, Catorex, Claude Meylan, Clerc, Cyrus, Da Vindice, Drakkar, Frédéric Jouvenot, Heritage Watch Manufacture, Ladoire, Laurent Ferrier, Louis Moinet, Marvin, Myriad, Peter Tanisman, Pierre de Roche, Pierre Thomas, Quinting, Rebellion, Ressence, RGM Watches, Valbray, Zandidoust and Zeitwinkel. 
Frédéric Jouvenot's prize as winner of the prestigious inaugural award took the form of a splendid musical box by Reuge, and a free stand and PR campaign for GTE 2012.