Rolex signs global partnership with Formula 1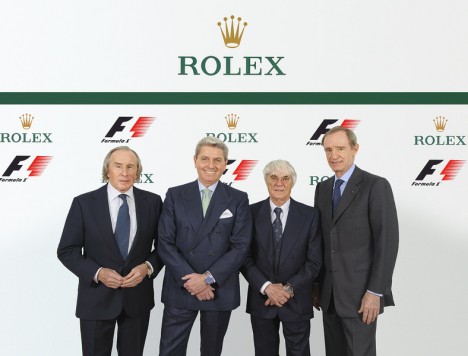 From the 2013 season, Luxury Swiss watch brand Rolex is the official Formula 1 timekeeper and the official timepiece to the sport. According to Rolex, the new partnership is "due to develop over the coming seasons".
The Swiss company will place its logo around the Formula 1 circuits and at several corners during F1 races.
"Without question Rolex is the partner of choice for a world class sporting series like Formula 1," said F1 CEO Bernie Ecclestone.
"The brand's prestige, the excellence of its watches as well as Rolex's passionate and long-standing commitment to motor sports gives it true credibility. This partnership is something that many people interested in Formula 1 will have been waiting for and should rightly be excited about. Rolex has incredible sporting heritage and therefore Formula 1 is the right place for Rolex to be."
"This is an exciting step for us at Rolex as the fit between Formula One and our brand feels very natural and, like all great partnerships, needs little explanation," said Gian Riccardo Marini, Chief Executive Officer of Rolex.
"In our respective fields, Rolex and Formula One embody the spirit of adventure, superlative engineering and a strong desire to push the limits of technology. These aspirations are enormously appealing to younger generations," he added.
"Our self-winding mechanical watches – like the dedicated drivers' chronograph, the Oyster Perpetual Cosmograph Daytona – are packed with technological innovation and human know-how, all thanks to our engineers' and watchmakers' passion for detail," said Marini.
"Rolex watches are symbolic of the quest for the highest level of performance and reliability that is epitomized by Formula One. Over the last 50 years both Rolex and Formula 1 have grown into world-leading aspirational brands and there will be many fantastic opportunities that we can enjoy together," added Marini.
For Rolex, the partnership with Formula 1 is part of a long history of close ties with motor racing and speed. The brand has been associated since the 1930s with a number of major personalities in the field, including Sir Malcolm Campbell, who broke the 300 mile per hour (483 km/h) barrier in 1935 at the wheel of his World Land Speed Record car Bluebird. Sir Malcolm was wearing a Rolex Oyster.
In the late 1950s, the Swiss luxury watchmaker became a partner of the Daytona International Speedway in Florida. In 1963, the circuit gave its name to the legendary chronograph Rolex created for racing drivers, the Cosmograph Daytona.
Since the late 1960s, Rolex has counted motor racing legend Sir Jackie Stewart, one of the most celebrated Formula 1 drivers of the last 40 years, among its family of prominent Testimonees. Sir Jackie won three Formula One World Championships (1969, 1971 and 1973) and 27 Grand Prix races. He is also widely recognized for his commitment to F1 driver safety during the 1970s.