For the second year in a row German Chancellor Angela Merkel is the stongest women on the planet. Angela Merkel, US Secretary of State Hillary Clinton, and Brazil's President Dilma Rousseff are the world's most powerful women, according to Forbes's annual survey that calculates wealth, media presence and overall impact.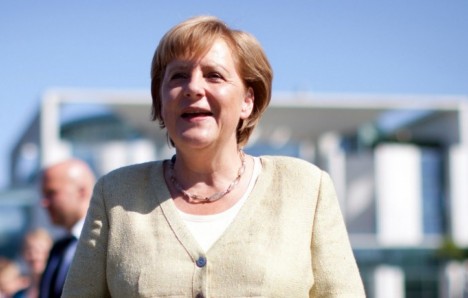 Merkel's top spot reflects her role in trying to resolve the European Union's financial crisis. For Forbes, Angela Merkel "is the 'Iron Lady' of the European Union and the lead player in the euro zone economic drama that continues to threaten global markets."
Hillary Clinton, says Forbes, "has had a formidable past 12 months".
"This year's Power Women exert influence in very different ways, and to very different ends, and all with very different impacts on the global community," said Moira Forbes, president of ForbesWoman.
"Whether leading multi-billion-dollar companies, governing countries, shaping the cultural fabric of our lives, or spearheading humanitarian initiatives, collectively these women are changing the planet in profoundly powerful and dynamic ways."
At 26 years, the pop singer Lady Gaga is the youngest woman on the list (14th place). Singer Jennifer Lopez, former US Republican presidential candidate Michele Bachmann, Meg Whitman of HP and Marissa Mayer of Yahoo entered the list for the first time.
The most powerful women of the planet:
1. German Chancellor Angela Merkel
2. US Secretary of State Hillary Clinton
3. Brazil's President Dilma Rousseff
4. Influential philanthropist Melinda Gates
5. Jill Abramson, the first female executive editor of The New York Times
6. Indian President Sonia Gandhi
7. US First Lady Michelle Obama
Top 100 list (www.forbes.com/power-women) includes 25 CEOs overseeing $984 billion in revenues. The women come from a total of 28 countries, with an average age of 55.