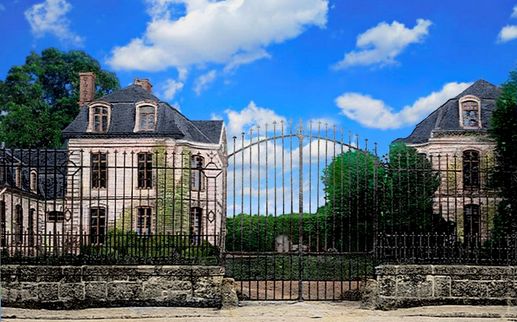 ---
This article titled "For sale: 'honky château' where Elton and Bowie recorded classic hits" was written by Kim Willsher, for The Observer on Saturday 3rd August 2013 23.05 UTC
To stroll through the grand faded salons of the Château d'Hérouville is to take a walk through one of the sacred spaces of British pop music.
Elton John was one of the first to record at the imposing French country pile in 1972, pounding his way through Honky Château – instantly giving Hérouville its nickname – then Don't Shoot Me I'm Only the Piano Player and Goodbye Yellow Brick Road. David Bowie arrived in 1973 to record Pin Ups and then later, Low – though he was convinced the château was haunted and refused to sleep in one of the rooms.
Rumour had it that the ghost was that of Frédéric Chopin, who is said to have lived at Hérouville with his mistress, French author George Sand. If so, the composer's ethereal bones would also have been shaken by the sound of Uriah Heep, Canned Heat, Rick Wakeman, Iggy Pop, the Bee Gees, Marvin Gaye, Fleetwood Mac, Jethro Tull, Cat Stevens, T Rex and Sham 69, who all checked into the chateau at various times to record hits that would become the classics of the 1970s and early 1980s. Then, in 1985, the music stopped. The recording studio was shut, the chateau gates padlocked and the imposing pile and its gardens abandoned to squatters and overgrowth.
Now, after years of neglect, the chateau, one of the world's first "residential music studios" is for sale. For €1.29m (£1.12m), the purchaser can buy not just a property, but a soundbite of the history of late-20th-century pop and rock.
The house, a 1740 staging post built in the austere Roman school of architecture, in the Val d'Oise region 30km north of Paris, became famous thanks to its previous owner, the late French musician and film score composer Michel Magne, who won an Oscar in 1962 for his music for the Gene Kelly film Gigot.
When Magne acquired the property in 1962 it was in ruins; today, it has 30 rooms, a swimming pool and tennis court set in 17,000 hectares of parkland.
Magne wanted the chateau, which had been painted by Vincent van Gogh, who is buried nearby, as a home for his family and a personal recording studio. However, word soon spread of its extraordinary acoustic qualities. Seven years later it opened as a residential recording studio, nicknamed Strawberry Studios, and boasting everything that a demanding star could want: state-of-the-art recording equipment, ping-pong tables, mini-football games and a swimming pool.
Two years ago, Magne's second wife, Marie-Claude, told Le Parisien newspaper: "There were certain rooms used as echo chambers. This was a revolution …in the beginning the studio was there to record [Magne's] music. But word of mouth spread quickly and after doing the rounds in Paris … the whole world came here. It became the destination for the biggest groups." One of the chateau's high moments was when Grateful Dead performed an impromptu concert in June 1971.
The late Jerry Garcia, the band's lead guitarist, told his biographer: "We went over there to do a big festival, a free festival they were gonna have, but the festival was rained out. It flooded. We stayed at this little chateau which is owned by a film score composer.
"We were there with nothing to do: France, a 16-track recording studio upstairs, all our gear, ready to play, and nothing to do. So, we decided to play at the chateau itself, out in the back, in the grass, with a swimming pool, just play into the hills. We didn't even play to hippies, we played to a handful of townspeople in Auvers. We played and the people came – the chief of police, the fire department, just everybody. It was an event and everybody just had a hell of a time – got drunk, fell in the pool. It was great."
During a three-month stay at the chateau, Fleetwood Mac singer Stevie Nicks requested that her bedroom be painted pink. When David Bowie stayed there with musician and producer Tony Visconti and Brian Eno they claimed to have felt supernatural, or "haunting" experiences. Visconti said later: "There was certainly some strange energy in that château. On the first day, David took one look at the master bedroom and said, 'I'm not sleeping in there!' He took the room next door. The master bedroom had a very dark corner, right next to the window, ironically, that seem to just suck light into it. It was colder in that corner too."
Eno claimed to have been awoken early every morning with someone shaking his shoulder. When he opened his eyes, no one was there.
Magne had no head for business and was forced to sell the property to his creditors in 1979. The new owners allowed the recording studio to remain while pursuing plans to convert the chateau into luxury flats. The local authority denied permission and, apart from a brief period of rental, it has been mostly empty for the past 28 years.
As well as the asking price, the property needs at least €300,000 of renovations, to make it habitable according to the estate agency, Champs Elysées Prestations. Gilles Ditcharry of the company said he has been approached by an Australian musician, who is returning to France in September to visit Hérouville for the second time. "It's not a classically beautiful chateau, as it was built in the austere Roman style, but it has a fantastic history and it's only half an hour from Paris.
"It needs a lot of work, but you can do something superb with it."
guardian.co.uk © Guardian News & Media Limited 2010
Published via the Guardian News Feed plugin for WordPress.