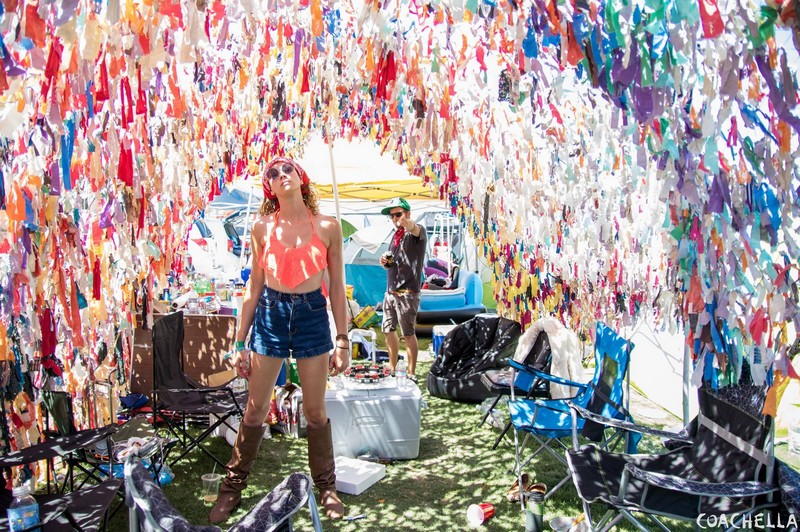 ---
This article titled "Five style lessons learned from Coachella 2016" was written by Priya Elan, for theguardian.com on Monday 18th April 2016 13.33 UTC
Coachella is a good barometer of style. On the basic level of "what the super rich kids are wearing now" but also as a measure of how catwalk styles have been absorbed by the mainstream. Here are five style lessons we've learned from the first weekend.
Bandanas – the multipurpose accessory
Deep in the heart of the arid Colorado desert, the practical concerns of Coachella are multiple. Not getting dust in your face and not letting your hair go all "Monica from Friends" are chief among them. The bandana – with its associations of the wild, wild west and hip hop (most recently as a key part of Ty Dollar $ign's wardrobe) – has been used as both on a practical level (it pulls back your hair) and as a stylish accessory. Seen on Victoria's Secret Taylor Hill, Hailey Baldwin and Leonardo DiCaprio.
'Chokers are the new flower crowns'
Taylor Swift's morphing into style maven has been gradual; but this month's Vogue spread sees it peak with her stepping into high couture wear, in Vetements' foil dress and boots. So we thought we should really take her advice. Already nicknaming the festival "bleachella" (her own and Kylie Jenner's peach hair come to mind, taking a cue from Palace), she cutely asked on her Instagram: "I feel like maybe chokers are the new flower crowns?" Yes, Taylor, they are. Rayanne Graff's favourite accessory has already been on the catwalk at London fashion week (there was a visual shout out to Anne Boleyn at the Topshop Unique collection) and it feels like the new way to signal an alt direction in a normal, smart-casual outfit.
Vintage Tees have moved on
Rock bores like myself like to yammer on about how people should not be seen in band T-shirts that they don't have personalised tattoos of. But the vintage tee has moved on. Sure, it still telegraphs an element of pop culture nous in the wearer but in fashion terms, it's a nod to an era when the shape of the rock band T-shirt was a classic, loose and baggy shape. To wit: at Coachella, Kanye West wore a Pink Floyd T-shirt and Joey Bada$$ wore a Tupac All Eyez On Me tee.
Dad Caps are multipurpose
The humble cap is a stalwart of men's wardrobes. It's a multipurpose item: as a cloak of invisibility (it covers up multiple hair crimes), a sun visor and, semantically, it suggests a streak of carefree and youthfulness. As worn by Leonardo DiCaprio, an actor of a certain age, it suggests the latter. A "dad cap" that says: "My age-group peers are brokering their mortgages but hey, here I am, I'm watching The Chainsmokers in sunglass, in the middle of the desert with Ri-Ri. YOLO!"
1977 Bonnie Tyler is the 2016 fashion muse
In 1977, Bonnie "turn around bright eyes" Tyler foresaw the future of festival fashion. Her style was part truck-stop country and western and part soft-focus reverie. Tyler's outfits featured lots of fringed denim, cut suede and Daisy Duke shorts, which is essentially the sartorial raison d'etre of the Coachella crew.
guardian.co.uk © Guardian News & Media Limited 2010
Published via the Guardian News Feed plugin for WordPress.