Leo Messi won the 4th FIFA Golden Ball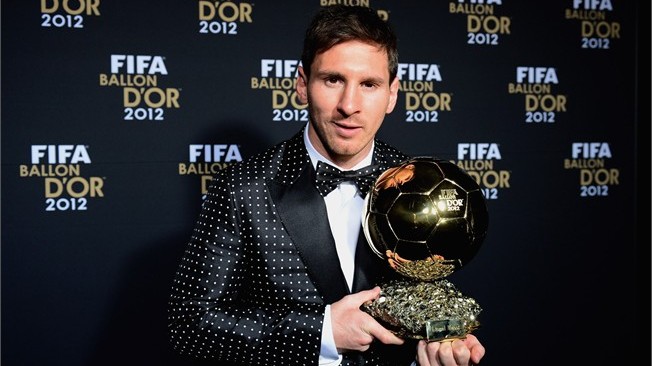 The 25 year old Argentina striker Leo Messi won for the 4th consecutive time the FIFA Golden Ball, becoming the only player in history to have succeeded. For this historic occasion Domenico Dolce & Stefano Gabbana created for him a black silk tuxedo with white polka dots and black satin lapels.
The FIFA Ballon d'Or is an association football award given annually to the player who is considered to have performed the best in the previous season. It is awarded based on votes by coaches and captains of international teams, as well as journalists from around the world.
"It's really nice to win it again, for a fourth consecutive time. I'm really very happy. The fact is I enjoy the things that happen to me, the awards I've won, and I hope I can now go on and win more titles with my club and my national team," said Leo Messi.
Messi went on to say he would celebrate the award with his family as usual, and admitted to feeling somewhat taken aback when he was announced the winner: "My mind went blank and I couldn't think of what to say. All the same, I'd like to dedicate this award to my family."
Messi was been elected in front of runner-up Cristiano Ronaldo and Andres Iniesta, who came third. Even though Barcelona did not lift a major trophy in 2012 – the Copa del Rey aside – Lionel Messi continued to go from strength to strength, amassing goals and records along the way. His achievements in 2012 included becoming Barça's all-time leading goalscorer in official matches when he scored his 233rd goal on 20
March, breaking the record for the number of UEFA Champions League goals in a single season (14) and, with his 82 goals in all competitions, he edges ever closer to breaking the record held by the legendary Gerd Muller (85 goals). The three-time Ballon d'Or winner was no less impressive for Argentina either, helping them dominate the South American FIFA World Cup qualifiers.
http://www.youtube.com/watch?feature=player_embedded&v=DXaOh1O7Dj8