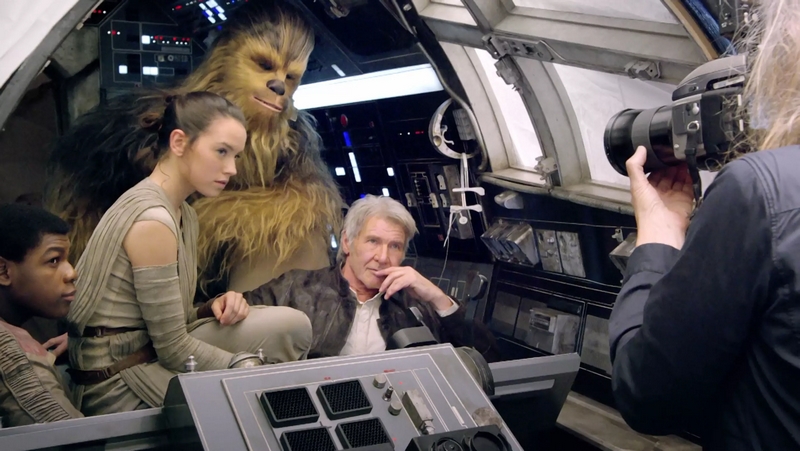 ---
This article titled "Fashion lessons from Star Wars: The Force Awakens" was written by Hannah Marriott, for theguardian.com on Monday 21st December 2015 14.59 UTC
Orange and white is the new camel and grey
When a colour combination appears in a blockbuster film and on the Céline catwalk, you know a fashion moment is in progress. So it is with orange and white, as modelled by the little, round BB-8 – a droid so adorable that watching him produces the same oxytocin release as petting a kitten – and his equally adorable owner, Poe Dameron. If you are neither a robot nor a resistance fighter, take inspiration from look 20 of Phoebe Philo's autumn/winter 2015 collection and pair a white shirt with something unexpectedly orange.
The Yeezy Boost Effect has reached Jakku
Much as the world would like to deny his ego this further victory, Kanye West has had a remarkable year as a fashion designer. First, his Yeezy Boost trainers won Shoe of the Year, then the most important heroine of the year's highest profile film kicked First Order butt in a putty-coloured ensemble that could have been straight from his last collection with Adidas. Spooky.
Hair is meta
Is Rey's triple bun stegosaurus up-do the new Princess Leia cinnamon rolls? In a word, yes – as the prevalence of "how to do Rey hair" YouTube tutorials confirms. But eagle-eyed viewers will notice a more complex tonsorial joke on the resistance base: one character, Lieutenant Connix – whose only line is, "General, are you seeing this?" – wears double buns that look suspiciously like pastry. In fact, the actor is Billie Lourd, Carrie Fisher's daughter, who also plays Chanel #3 in Ryan Murphy's black TV comedy Scream Queens, in which she perennially wears ear muffs. In the Star Wars universe there is no such thing as coincidence.
It's all about the grownup boiler suit
Sure, Poe Dameron and the other resistance fighters look great in their boiler suits, but Princess Leia's takes the prize. Her khaki version – all popped collars and precisely turned cuffs – is tough, chic and comfortable at the same time, which must be a blessed relief after confronting the world with your bottom in a gold bikini. It's exactly what a general would wear, and also an outfit idea for the rest of us to nick for walking the dog – see Topshop for similar.
Keeping a vague eye on trends has never hurt anyone
Han Solo has always had a look – knee-high boots, tight trousers, a shirt and a cropped jacket or waistcoat, as inspired by western films – and he sticks to it in Episode VII, despite insisting to Leia that he is actually wearing a new jacket. But his devotion to the aesthetic can be damaging. It suggests a man trapped in the drama of the past and it makes him chilly. At one point, he is handed a parka – to combat freezing conditions – but grimaces and takes it off at the first opportunity. Clearly, the reformed smuggler is not aware that in the 30 years he has been off screen functional wear has shed its "tourist at a bus stop" connotations – even Drake wears North Face now. This knowledge might have kept him warmer.
Mask semantics
Lots of villainous masks to decode in Episode VII – but which is the most high-fashion? True front-row types would probably find Kylo Ren's a bit, well, triggering – that menacing quadruple-chrome-lined forehead looks too much like the wrinkles produced by a furrowed brow for fashion-industry approval. Captain Phasma's mask is sleek – very on-trend silver coupled with a sexy off-the-shoulder cape – but the storm troopers' monochrome styling and dark glasses are unequivocally the best. As with Ray Ban sunglasses and the Chanel 2.55, sometimes you can't improve on a classic.
guardian.co.uk © Guardian News & Media Limited 2010
Published via the Guardian News Feed plugin for WordPress.