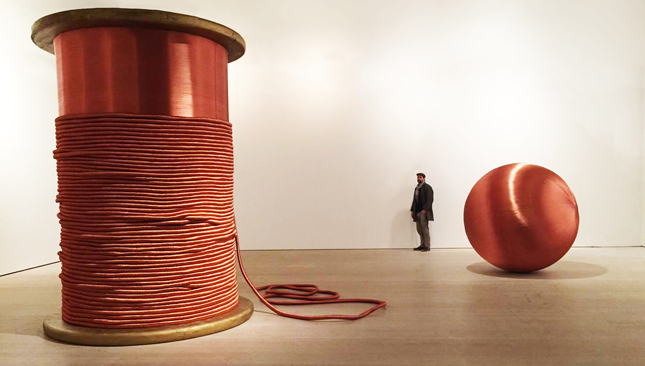 ---
This article titled "Saatchi Gallery to show its first all-female art exhibition" was written by Nadia Khomami, for theguardian.com on Wednesday 6th January 2016 12.02 UTC
It is best known for propelling previously niche artists such as Tracey Emin and Paula Rego into the mainstream. And now, as it prepares to mark its 30th anniversary, the Saatchi Gallery in London is set to get the art world talking again, with its first all-female exhibition.
Champagne Life, which opens on 13 January, brings together the work of 14 emerging artists from around the world to give them a museum-scale space to showcase their work.
"We've always supported the work of women artists over the years, many of those have gone on to have key roles in the contemporary art world, but I think there's still a huge amount of work to be done," said Nigel Hurst, the gallery's chief executive.
"Though women artists are far better represented in contemporary art now, in terms of the number of women artists that are having their work exhibited and shown, there remains a glass ceiling that needs to be addressed."
Of the top 50 contemporary auction lots by living artists sold at Christie's and Sotheby's in China, New York and London in 2015, only four were by women – a mere 8%.
The highest price paid at auction for a work by a living female artist is $7.1m (£4.85m) for a Yayoi Kusama painting; the highest male equivalent is $58.4m for a sculpture by Jeff Koons. Similarly, the most paid for a work by a deceased female artist is $44.4m for a Georgia O'Keeffe painting, compared with $142.4m for a Francis Bacon triptych. When the East London Fawcett group audited 134 commercial London galleries in 2013, it found that only 31% of the represented artists were women.
Hurst said: "The disparity is being redressed because of the number of women that are making contemporary art, but I still think, like a lot of industries, the art industry suffers from the fact that if you take a break from working it's perceived that you're maybe not as serious about your profession as you should be.
"Women artists are no different to women everywhere, they have to juggle family commitments with their working practice. So I think they probably have to keep more plates spinning than their male counterparts."
The artists in Champagne Life are at various stages of their careers and range from their 20s to their 50s. The name of the exhibition is taken from one of the featured works by American artist Julia Wachtel. According to Hurst, the "light-hearted and ironic title throws into contrast the reality of those labour-intensive, lonely hours in the studio with the perceived glamour of the art world, with its endless launches and parties".
Wachtel's namepiece is an image of Kim Kardashian and Kanye West inverted and juxtaposed next to a crudely painted sky-blue image of Mini Mouse. "There are two aspects to my work: one is considered to be landscape paintings, which are more traditional, and the other is celebrity culture," she said. "Both of those are taking the media world as source material, rather than the actual virtual world of a real landscape or person."
Wachtel's intention is not to directly comment on politics or culture, but to calibrate a nervous response to the onslaught of images people are exposed to on a daily basis. "Of course I consider myself to be a feminist, I don't know how anyone cannot be. But my goal as an artist isn't to promote feminist politics," she said.
"At the same time, there are instances where I use imagery to think about the representation of women. One of my pieces in the show, called Flat, is an image taken from a tabloid-type magazine, and it's a line-up of women in gowns from the red carpet. A lot of these magazines are in this way dedicated to evaluating women on some sort of quasi-objective scale. I've taken the image and put colour blocks behind the women's heads and black rectangles over their faces."
Wachtel says she has never been directly discriminated against "but I do think in much more insidious ways things would have happened differently in my career if I was a man. Male artists are taken more seriously. While one might say it's problematic to have a show of just women artists, because we don't have a show advertised as exclusively male, the statistics speak for themselves."
Another artist in the exhibition, Stephanie Quayle, 33, made the point that there is no female theme or emphasis in the show. "It's about pulling together of artists from all over the world and showing how we're all working so differently and doing what it is that makes us want to get into the studio every day."
Quayle, who was born on the Isle of Man, works in clay and her pieces in the show centre on cattle, sculptures she was inspired to produce by her work on a farm. "I wanted to use the cows to regain our connection to nature. I don't think of my work as gender-orientated, but I want my energy as a female to come through in it."
The Saatchi exhibition coincides with another all-female exhibition taking place on the other side of the Atlantic. The Rubell Family Collection has curated No Man's Land in Miami, an exhibition that celebrates the work of more than 100 female artists. "I think it's interesting that collectors who are the same generation are doing this at the same time," said Virgile Ittah, 34, a French artist whose work features in the Saatchi exhibition. "It shows that the identity of the artist is weaker in the work. Today, to be a woman artist is not as important. We are in a more genderless society."
Champagne Life runs at the Saatchi Gallery from 13 January to 6 March 2016.
guardian.co.uk © Guardian News & Media Limited 2010
Published via the Guardian News Feed plugin for WordPress.