The counterfeiters have now mastered ultra-complex watch movements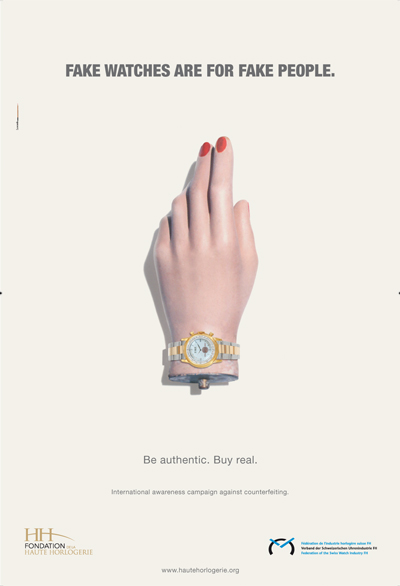 Counterfeiting costs the watchmaking industry billions each year, as China has perfected the art of forgery and fake Swiss Watches reach new levels of sophistication. Flaws and inconsistencies with the original product can be seen only with magnifier.
"That was one of the first times I've held in my hand a fake tourbillon watch, a real high-precision mechanism. The counterfeiters have now mastered ultra-complex movements," Michel Arnoux, head of the anti-counterfeiting unit of the Federation of the Swiss Watch Industry, told swissinfo.ch.
The counterfeiters' interest is certainly aroused by the current boom in luxury watches, but not only that. The "inflated" prices of some Swiss luxury watch brands and the policy of restrictive supply may have encouraged counterfeiting.
"Following the crisis in the watch industry in 2008-2009, Chinese makers of highly complicated movements had to drop their prices to get rid of their stocks," explains Michel Arnoux. "At the same time, the Chinese triads were looking for new outlets to invest the colossal sums they garnered from online sports betting."
Also, by drastically reducing their sales network on the traditional markets, the Swiss brands have forced hundreds of jewellers to source supplies at second-hand. "This parallel market, which is perfectly legal in the EU and the USA, has been a real magnet for the counterfeiters," Arnoux notes.
To curb the counterfeit phenomenon, the watch industry federation now has a team of 40 to 50 Chinese inspectors in the field. "Our strategy involves mounting a lot of operations so as to keep those producers under constant pressure." These joint operations with the police are a daily occurrence in the province of Guangdong, which is the epicentre of counterfeit watchmaking.