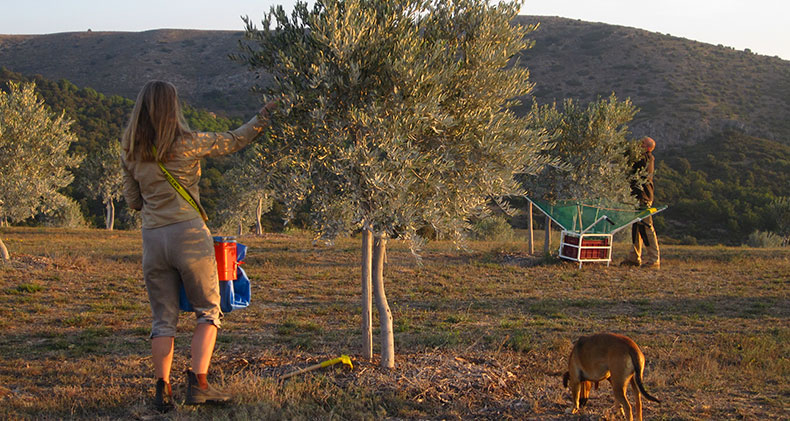 ---
This article titled "Extra virgin '100% real' olive oil goes on sale in UK" was written by Rebecca Smithers, for theguardian.com on Wednesday 15th April 2015 15.10 UTC
An extra virgin olive oil produced in France and which the grower claims to be produced entirely without insecticides and fertilisers goes on sale in the UK this week.
The product differs from most commercially-produced olive oils, which largely rely on fertilisers and treatments to feed the soil, kill pests and keep weeds at bay.
After nine years in the making, the first commercial harvest of Querubi – just 4,000 bottles costing £25 for a half-litre – was brought personally into the UK last week by grower Willem Voorvaart. He hopes that with olive oil fraud rife, his "pure and traditional" oil will appeal to UK customers who are prepared to pay extra for something different from conventional blended rivals.
Since journalist Tom Mueller revealed how more than 70% of the extra virgin olive oil sold in the world is fake, olive oil devotees have been seeking out authentic, 100% real olive oil. Typically, Italian oils are adulterated with cheaper and inferior imports from Spain, Greece, Morocco and Tunisia.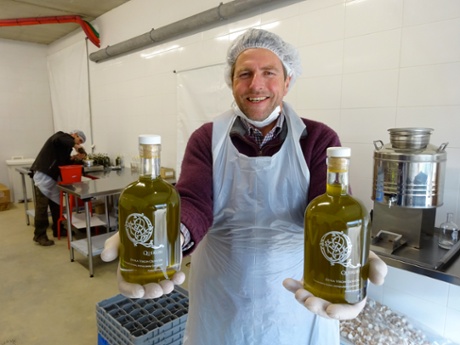 Voorvaart told the Guardian: "Consumers should be reassured that we retain full control over our oil; we press under our own supervision, bottle, seal (with wax), stamp and package on the estate and transport it ourselves to ensure its purity."
A Dutch entrepreneur who has worked elsewhere in the food industry, and is deeply committed to environmental sustainability, Voorvaart bought his 500 hectare (1,200 acre) estate in the French Pyrenees in 2006, where the land had been unfarmed for 50 years.
After a year observing his land, he planted 6,000 olive trees (four separate varieties – Verdal, Poumal, Oliviera and Picholine) traditionally widely spaced, and mulched with chopped bark and chippings to suppress weeds.
Unlike weed killers, the wood chips not only limit moisture in the soil from evaporating, but gradually deteriorate and act as a natural fertiliser. To prevent the devastating blight and damage caused by fruit fly, a mixture of water and chalk are sprayed on to the olives.
Voorvart also introduced a solar-powered irrigation system and built low-energy farm buildings. Nine years later his first commercial harvest has been hand-picked and bottled – cold pressed, un-blended and unfiltered and made without the use of any machinery. Eventually he hopes to produce 15,000 bottles a year.
Crucially, he explained: "We do not add anything to our oil, not do we take anything away, therefore the taste is solely dependent on meteorological events of the growing season and the timing of the harvest."
The premium oil, which should be used cold for dipping and in dressings and described as "highly fragrant and spicy" with a peppery taste, is stocked in farmers' markets and delicatessens including Bayleys and Sage, Italo, La Fromagerie and Cowdray Farm Shop.
guardian.co.uk © Guardian News & Media Limited 2010
Published via the Guardian News Feed plugin for WordPress.