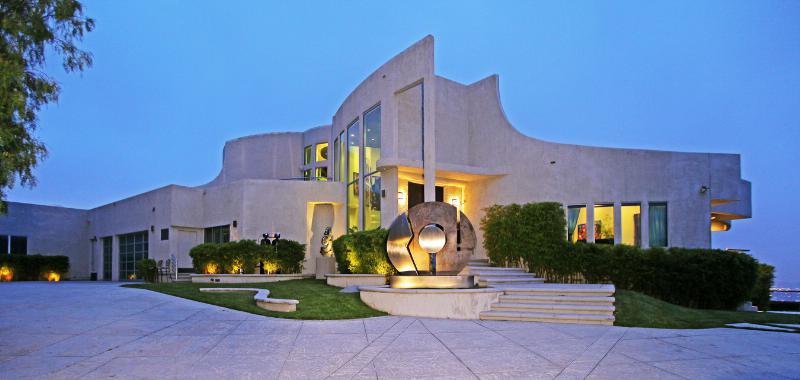 Hollywood Hills' Mt. Olympus neighborhood, the ultimate contemporary Hollywood dream home, was sold for $30 million, a record price in the
Hollywood Hills for the exclusive Mt. Olympus location.
Oscar-nominated film producer and Silicon Valley scion Megan Ellison, whose movies including "Zero Dark Thirty" and "American Hustle," bought the main three-acre site and adjacent undeveloped land for a total of 8-plus acres. Overlooking the Sunset Strip on one of the area's few remaining promontory sites, 1 Electra Court boasts stunning views from downtown Los Angeles to the Pacific Ocean, and has been the site of countless celebrity parties and movie, television and photo shoots.
The six-bedroom, eight-bath home offers 9,204 square feet of private, contemporary living space designed by architect Richard Schwarz in 1990. The estate's striking modern lines and extravagant outdoor living spaces embrace the southern California lifestyle, and were featured in the 2009 comedy film "I Love You, Man."
"This is the ultimate contemporary Hollywood dream home," said Aaron Kirman, president of Aaroe Estates, the luxury property division of John Aaroe Group, one of the country's top-producing agents known for his extensive A-list clientele. "It has amazing 360-degree views, combined with privacy and California-style luxury—heated balconies, floor-to-ceiling windows, two guest apartments, a pool with grotto, and a volleyball court."
The grand entry, with its extraordinary scale, sets the estate's tone by creating the feel of a private enclave in the heart of the city. A step-down living room offers casually elegant entertaining space enhanced by a marble fireplace and dedicated bar. The formal dining room, office and media room are flanked by additional suites, which can be used as recording studios, guest quarters or offices. The site includes private parking for 25 cars, and the adjacent acreage would allow for additional residential development.