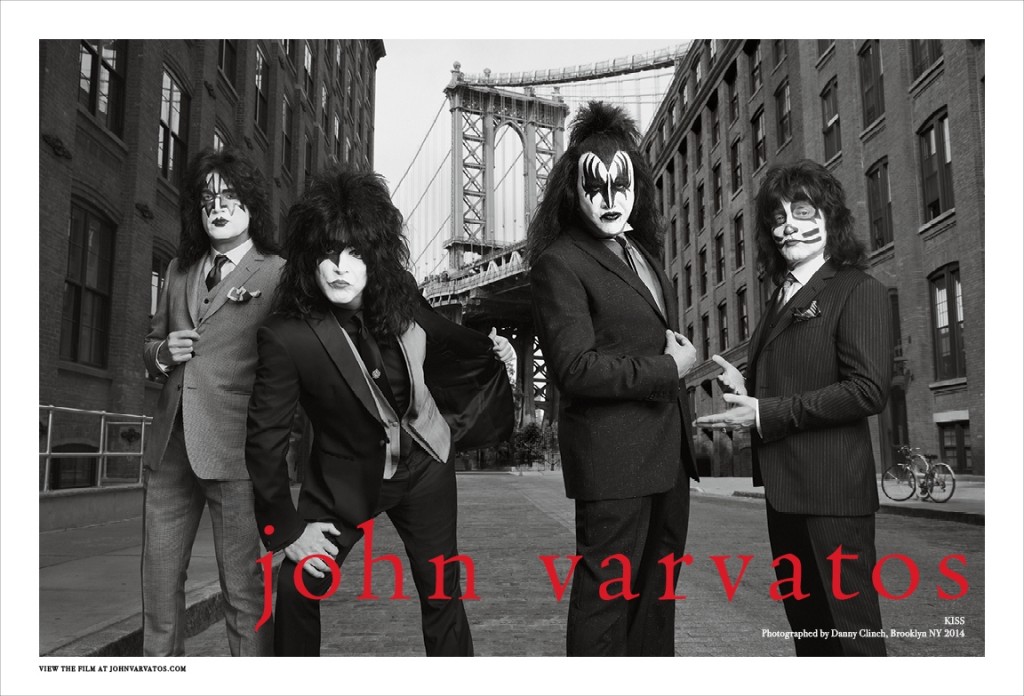 Fresh on the heels of the Kiss induction into the Rock and Roll Hall of Fame, fashion designer John Varvatos  features the KISS band in the new Spring 2014 advertising campaign, which was inspired by the notorious album "Dressed to Kill." The black and white images were shot by famed Rock photographer Danny Clinch in DUMBO, Brooklyn and depict the band members in timeless John Varvatos tailored clothing.
Additionally, during the John Varvatos Fall/Winter 2014 Fashion Show, held January 11, 2014, KISS made a special guest appearance.
"I wanted to sprinkle a little magic dust throughout the clothes in this collection, highlighting the idea of sartorial daring and masculine confidence that is integral to my vision, bringing it to a new level." said John Varvatos. "While working with KISS on my new advertising campaign, I was taken by how much everybody, regardless of their age, loves them. For me, it is the idea of the superhero, a man in disguise with incredible powers, that makes the KISS myth so enduring and appealing, and it's exactly that mindset that I wanted to explore, adding a dash of fantasy to my work while keeping tailored finesse and elegance high on the agenda. The result is energetic and strong, for a confident man who dares."
2014 Varvatos' silhouette is slim and elegant. "The color palette is nightly and shimmering, with sudden surprises. Black, charcoal, silver, grey, either matte or metallic, give way to heather and light grey and finally open up to creamy white. Fabrics are masculine, with a tactile quality: brushed wools, flannel, washed calfskin, feather-effect weaves, silk and cashmere yarns," explained the fashion house.