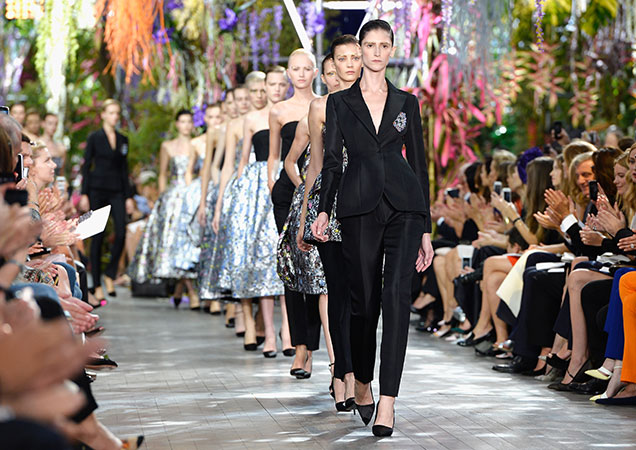 LVMH's "Young Fashion Designer of the Year" award will have 40 of fashion's biggest names listed as experts, announced the luxury giant. The team will be working as a panel of experts whittling down the final 30 successful LVMH Prize applicants.
The 40 experts include founder & executive Chairman of Net-a-Porter Natalie Massenet, supermodel and Givenchy muse Mariacarla Boscono, the Editor in Chief of Vogue China Angelica Cheung, fashion photography legend Patrick Demarchelier, stylist Carine Roitfeld, President of Saks Fifth Avenue Marigay McKee, Russian philanthropist, entrepeuneur, fashion designer and magazine editor Dasha Zukhova and the Russian model and philanthropist Natalia Vodianova.
During Paris Fashion Week (end of February – beginning of March 2014), the 30 finalists chosen by the LVMH Prize team from among the hundreds of applicants from around the world will present their work to the panel of experts, who represent the multiple creative facets that shape today's fashion universe. The showroom at LVMH headquarters will be the last stage before the ten young finalists present their work to the prestigious Prize jury, which contains eight creative directors from LVMH's stable of fashion houses. Candidates have until February 2, 2014 to enter the Prize competition. The winner of the Young Fashion Designer of the Year award will receive a €300,000 grant and personalized assistance for one year from LVMH.
The Panel of Experts:
Imran Amed, Founder and Editor of Business of Fashion (London)
Sarah Andelman, Creative director of Colette (Paris)
Fabien Baron, Art director, Founder of Baron&Baron (New York)
Tim Blanks, Editor-at-large for Style.com (London)
Mariacarla Boscono, Supermodel and muse (Rome)
Angelica Cheung, Editor in Chief of Vogue China (Beijing)
Alexandre de Betak, Founder of Bureau Betak (Paris)
Godfrey Deeny, Editor at large, Fashion, for Le Figaro (Paris)
Patrick Demarchelier, photographer (New York)
Babeth Djian, Editor in chief of Numéro (Paris)
Linda Fargo, Senior Vice President of Bergdorf Goodman (New York)
Jo-Ann Furniss, Writer, editor and creative director (London)
Chantal Gaemperle, LVMH Group Executive Vice President for Human Resources and Synergies (Paris)
Stephen Gan, Founder of Fashion Media Group LLC (New York)
Julie Gilhart, Consultant (New York)
Katie Grand, Editor in chief of Love Magazine (London)
Jefferson Hack, Co-Founder and Editorial Director of Dazed Group (London)
Laure Hériard Dubreuil, Co-founder and chief Executive of the Webster (Miami)
Adrian Joffe, Chief executive officer of Dover Street Market International (London)
Sylvia Jorif, Journalist at ELLE Magazine (Paris)
Hirofumi Kurino, Creative Director of United Arrows (Tokyo)
Linda Loppa, Director of Polimoda (Florence)
Natalie Massenet, Founder & Executive Chairman of Net-a-Porter (London)
Pat McGrath, Makeup Artist (New York)
Marigay McKee, President of Saks Fifth Avenue (New York)
Sarah Mower, Contributing editor of Vogue US (Londres)
Camilla Nickerson, Stylist (New York)
Lilian Pacce, Fashion editor and writer (Sao Paulo)
Jean-Jacques Picart, Fashion and Luxury Consultant (Paris)
Gaia Repossi, Creative director of Repossi (Paris)
Olivier Rizzo, Stylist (Antwerp)
Carine Roitfeld, Founder of CR Fashion Book (Paris)
Olivier Saillard, Director of the Galliera Museum (Paris)
Marie-Amelie Sauvé, Stylist (Paris)
Carla Sozzani, Founder of 10 Corso Como (Milan)
Charlotte Stockdale, Stylist (London)
Tomoki Sukezane, Stylist (Tokyo)
Natalia Vodianova, Supermodel and philanthropist (Paris)
Louise Wilson, Course Director of the Fashion MA at Central Saint Martins College of Art and Design (London)
Dasha Zukhova, Editor in chief of Garage Magazine and Founder of Garage Museum of Contemporary Art (Moscow).