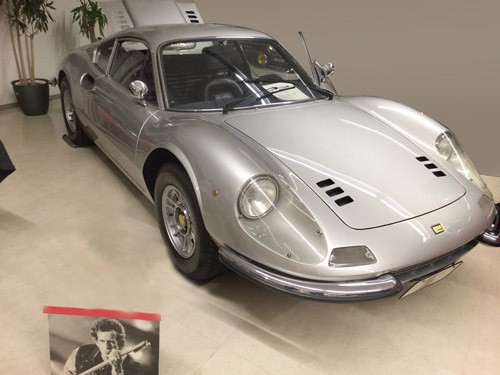 A Ferrari Dino 246GT, the 1972 compact supercar that once belonged to the Rolling Stones' lead guitarist, is going under the hammer at the Coys auction on May 9.
The Dino 246 is one of those rare examples of a model which acquires the cachet of a 'collector's car' almost while still in production, almost ironic in view of the fact that it was initially only grudgingly marketed as a Ferrari. The car was initially the brainchild of Enzo Ferrari's son Alfredino, and when he died prematurely of motor neurone disease, the new model, a radical departure with its mid-engined six-cylinder layout, was named the Dino in his honour.
With truly exquisite styling, a jewel-like 2.4 litre V6 engine and amazingly well-balanced handling as a result of being Ferrari's first mid-engined design. This was so much the case in fact, that it could probably cover a journey on a twisting road quicker than the more obviously potent Daytona.
Since the car established itself so rapidly as one of the 'must have' accessories of the 1970s it is unsurprising that the list of owners is fairly star-studded, and today's example must represent one of the most starry in that it was purchased new by the great Keith Richards in California in February 1972.
Already a connoisseur of fine cars by the time he took delivery, he kept the Dino for 14 years until 1986, and in this time he covered over 25,000 miles.
Although he had purchased it in the USA, Richards could not bear to be without his Dino so he brought it back to the UK in 1975 where it was registered to his address in Munro Terrace in Chelsea, London, and assigned the UK registration number GYL 157N.
Accompanying the car is a letter from the Rolling Stones manager Alan Dunn confirming Richards' ownership and mileage up until April 1986, since which time the car has spent an extended period in a prestigious Japanese collection.