Ponte di Rialto in jeans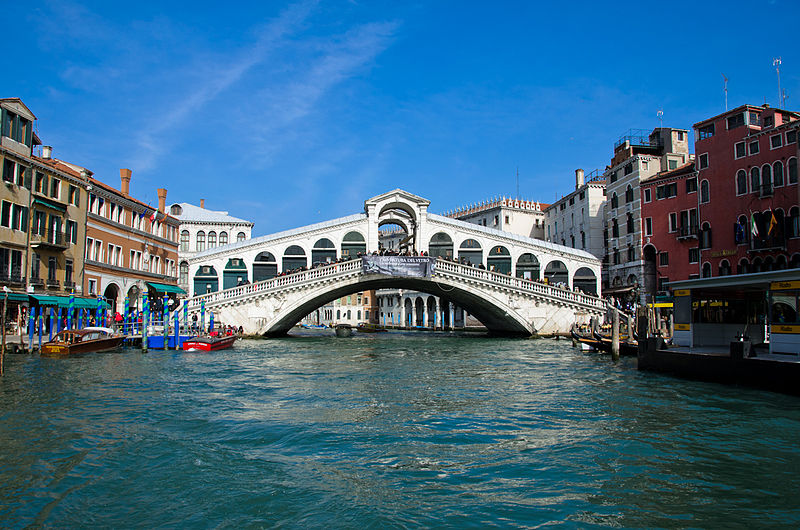 Greatly in need of repairs, Venice's 48-metre (157 foot) long Ponte di Rialto, one of the most beautiful bridges in the world and a true reflection of Venetian style, will be restored by "OTB", a Company from Breganze (Vicenza, Italy) owned by Renzo Rosso (Diesel clothing company), popularly known as Italy's "Denim King". The advertising and restoration project worth $6.5 million will keep the Rialto Bridge open across the Grand Canal. Rialto is not the only historic landmark to be restored thanks to private funding. Renzo Rosso is following into the footsteps of Diego Della Valle, chairman of luxury shoemaker Tod's, who is investing 25 million euros to fix up Rome's Colosseum. Other big labels involved in restoration projects include French luxury-fashion mogul Francois Pinault, Bulgari, Replay, Palazzetti, Prada and Benetton.
"Today a fundamental collaboration for the safeguarding of our common heritage comes to life… I have to thank him on behalf of all Venetians, but also on behalf of the entire world, because maintaining this city is a commitment that goes beyond the city itself," said Venice mayor Giorgio Orsoni.
"We've been lucky to find someone who believed in our idea of putting together public and private for the renovation of this important piece of architecture," added Orsoni about the work which will begin in early 2014 and last approximately 18 months.
"Criticism comes with our job. But this city can't wait any longer … Our monuments are falling to pieces," said Venice councillor Alessandro Maggioni.
"When you make a profit, it's only right to give something back to culture and society, especially in times like these. It's not the private sector trying to replace the State, it's the private sector trying to work with it in dialogue for the sake of a better world" said Rosso.