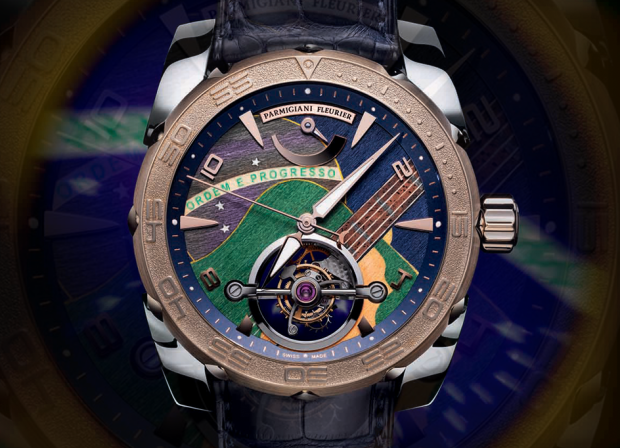 The lively Samba rhythm has inspired a new piece to the ranks of Haute Horlogerie. Parmigiani Fleurier's Pershing collection,
elegant and sporty, has added Pershing Samba Madeira to its range. The limited-edition watch celebrates Brazil, with its vibrant colours and Samba effervescence. In 2011, Parmigiani Fleurier signed a unique partnership with the Confederação Brasileira de Futebol (CBF), and became the official watchmaking partner of this legendary federation.
Samba, the Brazilian dance and musical genre originating in Bahia, Brazil is recognized around the world as a symbol of Brazil and
the Brazilian Carnival. Considered one of the most popular Brazilian cultural expressions, samba has become an icon of Brazilian
national identity.
Brazil's signature green, yellow and blue shades adorn the dial of the luxury timepiece along with a guitar with six strings, as thin as human hair, and fastened in place by hand. "Ordem e Progresso," Brazil's national motto, can be read on the elegant titanium case set of by the 18 carat rose gold of the bezel and indices. The unique luxury watch model comes in a presentation case which has been hand-painted with the colours of the Brazilian flag to match.
The Swiss brand of luxury watchmakers founded in 1976 in Fleurier, Switzerland, is also the principal partner of the Montreux Jazz
Festival for the seventh consecutive year, confirming the close ties between two artistic fields: music and luxury watchmaking.