Effortless space-saving design: Cricket table from Folditure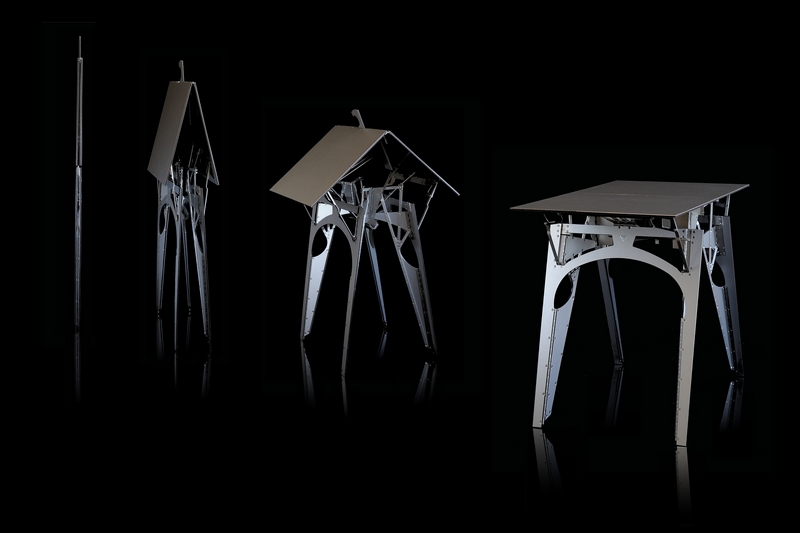 It is the world's thinnest luxury folding table and together with the Leaf, the world's first luxury folding chair, it represents some of the most space-saving furniture systems. Developed by Folditure, the Cricket table is based on a completely new folding geometry and locking mechanism. All the table owner has to do is hold it by its hanging hook, rest the legs on the floor and gently push the table top down as it pops open. A single Cricket is designed to seat two people. Multiple tables can clip together to form dining room tables of unlimited length. Like the Leaf, at only ¾ of an inch thick when folded and under 24 inches wide, the Cricket can hang in a closet or on the wall.
"The Cricket is a new kind of table where it's there when you need it and gone when you don't," said Alexander Gendell, architectural inventor and chief designer of Folditure. "Folditure is all about creating new space- saving solutions yet to be envisioned. The chair seemed like a logical place to start and the Cricket is a logical progression of our design philosophy."
"With the rise of world population, living space is becoming valuable for everyone. Urbanization and the need for flexibility are increasing demand for effortless space-saving design," continued Gendell. "Folditure addresses this need by infusing its architectural design values, functions and aesthetics into the Cricket to create a high quality, high performance and flexible folding table."
Folding furniture has captured the imagination for centuries. In fact, the earliest known folding chair dates to about 2,000 BC in ancient Egypt. It was a folding stool, with a central pivot axis. Surprisingly, most folding chair designs are still based on the same principal of a single axis.