Riccardo Fusari, Chef Concierge Rocco Forte Hotel Amigo Brussels, Membre Clef d'Or International and Marc Neuville, Concierge Rocco Forte Hotel Amigo Brussels, Membre Clef d'Or International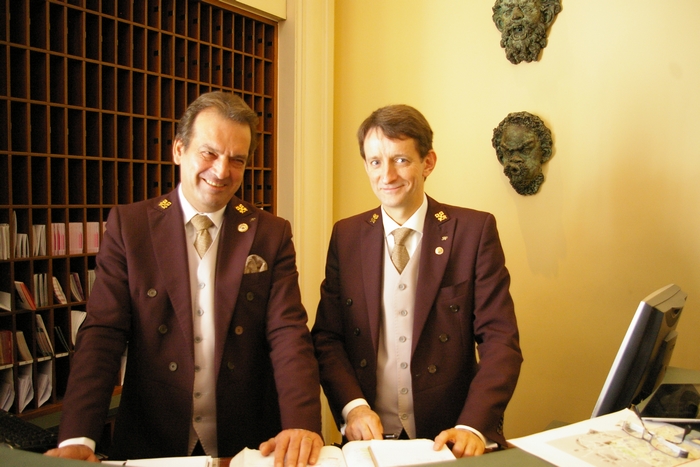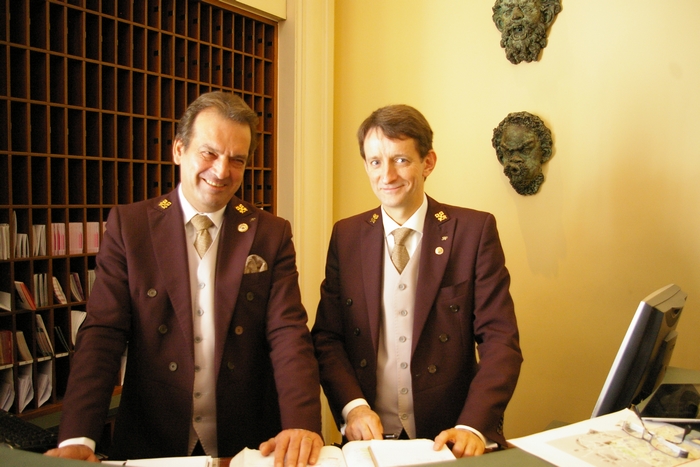 The admirable Brussels gave us the chance to discover Rocco Forte Hotel Amigo, city's flagship hotel, and experience the very best in personal service.
How can you not appreciate the beauty and splendour of Brussels, when you occupy a central location next to the magnificent Grand Place, a glorious work of art protected by the world patrimony of UNESCO. A stone's throw away from the famous Sablon antique district and innumerable restaurants, bars, art galleries, and the design area of the Antoine Dansaert street, art and
Whatever your tastes or preferences in music, art, architecture and food, the Amigo Concierge team, one of the best in Belgium, will find something in Brussels that will leave you with a memorable experience. We had the opportunity to speak with Marc Neuville, Concierge Rocco Forte Hotel Amigo Brussels, Membre Clef d'Or International. You can read about Rocco Forte Hotel Amigo here and here.
What means Amigo Hotel to you?
Luxury, comfort and ideal location…
What are your personal favourite parts of the hotel?
I like all parts of the hotel; the public areas, the rooms, our restaurant, but the place I feel better is of course in the lobby with the tremendous stones, at the hotel entrance, in other words, behind the concierge desk.
For how many years you work for Amigo and how the team was built? Any interesting moments that's happened here?
I work for Amigo from 27 years. I began as a trainee. The owner decided to have a concierge very quick after the hotel opening in 1958. Years after years, it became a team, and we are now 5 colleagues in the party. There is not a frequent turnover at the concierge desk. Indeed, most employees stay for years at this function. We learn every day something; every day is interesting and different.
A memorable day was when the hotel entered in an international and Family company, build by Sir Rocco Forte.
What are your favourite parts of your job?
Contact with guests. I also enjoy answering guests' mails with requests before their stay. I make this as if it was for me. We also like to find answer to any request. We want guests forget their problem, while we try to find a solution to it.
Which famous personalities have walked in Amigo's corridors?
So many people, singers, movies producers and actors, politicians, professors, I can say that we have seen in the Amigo most famous people of the World.
What's the most memorable words one of your guests said to you as an appreciation of their stay?
Probably the guest who said that he felt at home here. He said that he was travelling everywhere in the world, and never had such an impression in a luxury hotel. Simplicity in luxury.
What is a relatively typical day at Amigo? What means a busy day for you and your team?
We use to start the day before our shift by taking a coffee with colleagues (porters, doormen and receptionists). This is a good way to share already some information. Then we check again all reservations made earlier for taxis, limousines, restaurants, tours, etc. Normally, we won't move from our place until the end of our shift.
The concierges are always busy and if it's quite, we take advantage of this generally short period, to work on our agendas and address books.
A busy day is the day during which I regret not to have 4 hands and legs.
What are the things that you wish guests knew about the Concierge?
We are totally here to help guests, and sometimes people think that concierge is not approachable. I want them to know that this is not true. Every question deserves an answer.
Inevitable question… What's the weirdest request you've ever had from a guest?
There is no weird demand. If we have the impression that the demand is different, we use more originality and effort to find an appropriate answer.
If you had to give a Brussels insider tip to a first time visitor which would it be?
To enjoy first Brussels by walking in the Grand Place and Sablon area, then we will have him discover our typical dishes in the restaurants around the centre.
If you had to name me one reason why people should choose this hotel when visiting Brussels, what would it be?
The luxury in front of the magnificent Grand Place (perfect location).
What means luxury to you in one word?
Details.
What are your models or fundamentals in life which you will recommend to others?
"The art of simple luxury".