Chao Tai Fook Tops L2's Digital IQ Index: China – Watches & Jewelry Supplement; Cartier, Swarovski Round Out Top 3

With 70 percent of Chinese luxury consumers beginning their purchase online, digital is the tip pf the purchase spear in China. However, many Watch & Jewelry brands have adapted their marketing efforts to the needs of the increasingly global Chinese consumer. The Watch & Jewelry category is "hamstrung by torturous load times, anemic Sina Weibo communities, poor visibility on search, and weak brand buzz".
Chow Tai Fook, a Hong Kong jewellery retailer owned by Chow Tai Fook Enterprises, took the top spot in the inaugural Digital IQ Index: China – Watches & Jewelry Supplement released by L2 digital innovation think tank. L2 measured "Digital Aptitude" of 22 global watches & jewelry brands in the Chinese market.
The Hong Kong-based Chow Tai Fook, followed by second-ranked Cartier, were the only two brands in the report to earn Genius and Gifted titles, respectively. This inaugural supplement benchmarks the digital competence of 22 global Watches & Jewelry brands in the Chinese market on 800 data points across four dimensions: Site, Digital Marketing, Social Media, Mobile.
Deft marketing in China could have a salutary effect on sales in Hong Kong and Europe. With mainland prices for luxury watches up to 161 percent higher, many purchases are made abroad. Just 37 percent of Chinese luxury watch purchases were made on the Mainland in 2012, down from 64 percent in 2009. Meanwhile, the European purchases exploded from 5 percent in 2009 to 25 percent last year, says the authors of the report.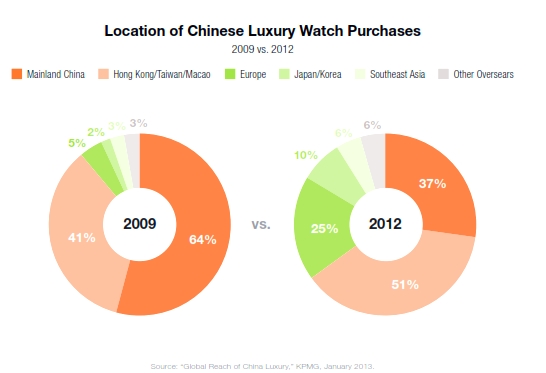 "As luxury brand access to traditional marketing channels in China is denied, digital deftness will define the winners in the world's fastest growing luxury and e-commerce market. In this year's report, an overwhelming 64% of Watches & Jewelry brands registered a Feeble ranking, suggesting that the bar is high but that basic investments can move the needle," explained Maureen Mullen, Head of Research & Advisory, L2 Think Tank.
Watches & Jewelry brands are present on an average of 2.4 social platforms, with 59 percent on both Sina Weibo and Youku. Eightly percent of the brands maintain a video channel on either Youky or Tudou, and 18 percent are on both platforms. Chow Tai Fook and Swarovski are active on more than 5 platforms, while Patek Philippe and Vacheron Constantin are the only brands with no social presence.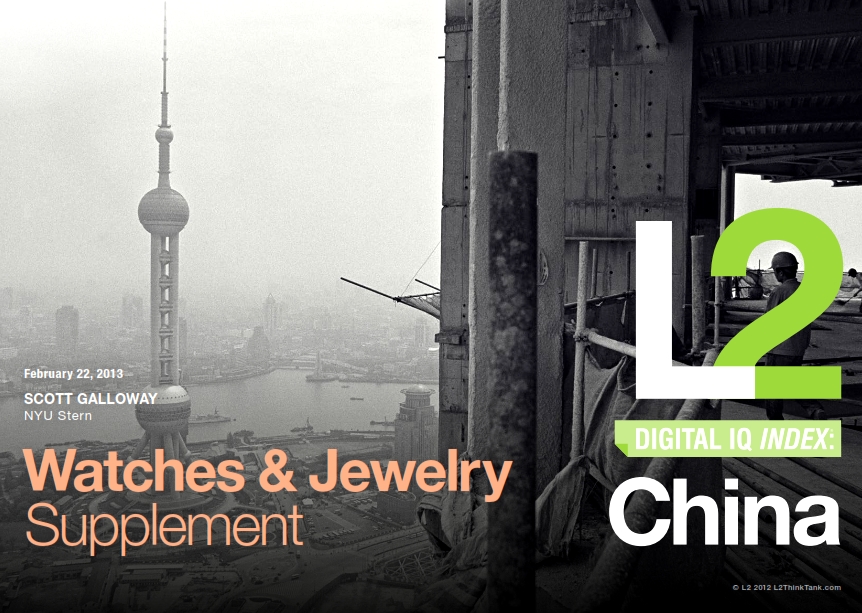 Top 20 Digital IQ Ranking:
1. Chow Tai Fook
2. Cartier
3. Swarovski
4. Tiffany & Co.
4. Jaeger-LeCoultre
6. Van Cleef & Arpels
7. Raymond Weil
8. IWC Schaffhausen
9. Bulgari
9. Omega
9. Rolex
12. Longines
13. Piaget
14. Montblanc
14. TAG Heuer
16. Hublot
17. Pandora
18. De Beers
19. Vacheron Constantin
20. Harry Winston.