We are honored to present an article by Fflur Roberts, Head of Global Luxury Goods Research at Euromonitor International
Hit by the global economic slowdown, the luxury goods industry went through a period of decline in 2008-2009 but by 2010 the recovery had already begun, with most developed countries recording positive growth. At the same time the luxury goods market has witnessed a new wave of newly middle class consumers from China, India, Russia and Brazil beginning to sample the delights of luxury goods, with China's hunger for luxury in particular proving to be unstoppable.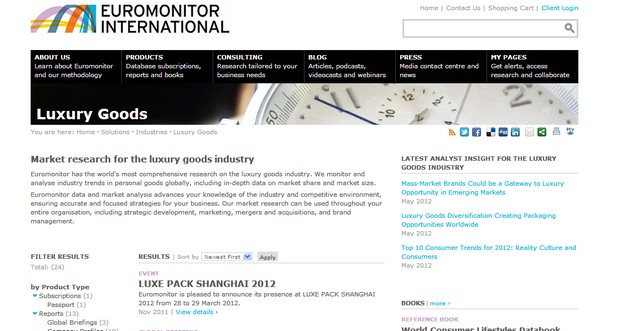 Benefitting from a fast-growing middle class and a fast-developing luxury distribution network,  have consistently outperformed the global market and the country will overtake France and the UK by 2015, making China the fourth biggest luxury market in the world.
The opening of Harvey Nichols's second outlet in Hong Kong in October 2011 was a move that is directly linked to China's growing appetite for luxury goods. Whilst Prada's decision last year to instigate an IPO in Hong Kong was evidence that emerging Asia, and China in particular, is the new beacon of opportunity for designer goods.Globally, China is expected to be the fastest growing market for many leading luxury brands. US accessories company Coach, for example, is the latest luxury label to sell shares on the Hong Kong Stock Exchange, and is looking to raise its brand profile in China by opening up to 30 new outlets. Whilst UK luxury brand Mulberry, will be a key driver of trendsetting affordable luxury fashion along with Prada who, following its IPO, announced plans to open outlet stores in China over the next three years to target China's second- and third- tier cities and the millions of middle-income consumers who inhabit them.Another interesting observation about the structure of China's burgeoning luxury goods market and the opportunities it offers is the comparisons across gender-specific categories.  The fact that men are increasingly turning their attention to luxury goods across a number of product categories is testimony to how this growth is a universal trend in the country. Male-specific luxury goods account for half of overall sales in 2010 with revenue generated by men's clothing from
Giorgio Armani
, footwear and man-bags from
Gucci
and
Rolex
watches outstripping  that of women's specific categories. Cashing in on this trend, many global luxury brands such as
Burberry
,
Hermes
and
Louis Vuitton
have introduced more men's designer wear into their China based stores at the expense of women's designer wear, a trend which is likely to intensify in the short to medium term.Chinese consumers without doubt will be major drivers of incremental value growth across all luxury goods categories. Whilst the US market it set to remain the largest luxury goods market in the short to medium term, China and the growing wealth of the Chinese luxury consumer is set to firmly be in the driving seat in determining the future outlook for global luxury goods. 
Click to tweet!
About Euromonitor International
Established in 1972, Euromonitor International is the world leader in strategy research for consumer markets. Comprehensive international coverage and leading edge innovation make our products an essential resource for companies locally and worldwide.
As an independent company, we offer unmatched detail and unbiased content for every region, country, category and channel. From socio-economic context to intimate detail on the smallest products or markets, Euromonitor provides market research and surveys focused on your organisation's needs.
Our extensive network of strategic analysts in 80 countries provides the depth of global, national and local business information required in today's increasingly international business environment. Our global industry specialist teams ensure the international consistency of our research. Emerging countries or developed economies: we identify the next opportunity before anyone else.
With offices around the world, analysts in 80 countries and market research on every key trend and driver, we give you powerful access to the real story behind consumer change.