A range of exclusive services are offered to the lovers, from the possibility to create a special order tiara or to organise a fitting of the jewellery pieces with the wedding gown, to the extraordinary escapades in the heart of the romantic Parisian tradition.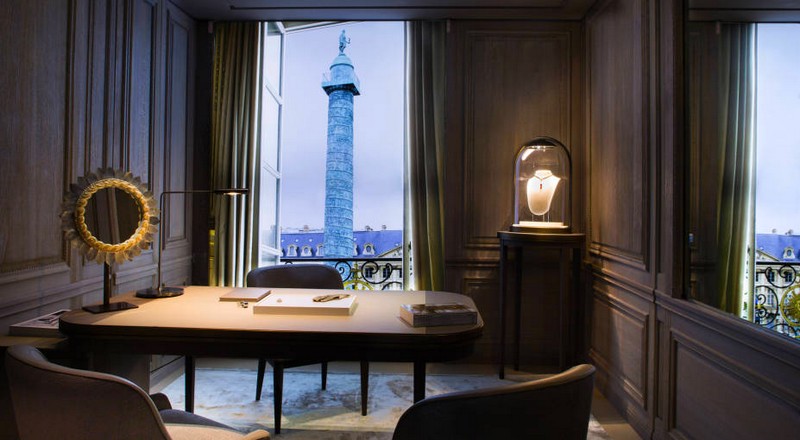 What's new at 12 Place Vendôme? Chamet's Musée Ephémère was replaced by a setting created specially to welcome lovers and their projects. Enter the new Chaumet Bridal store where the French luxury Maison marks life's happiest moments with precious milestones: engagement rings, wedding bands, tiaras… the eternal symbols that accompany personal ceremonies.
From imperial tiaras to the Aigrette ring that crowns the finger, the Maison's creations pay tribute to the bond between two beings. Beyond the creations presented, the boutique is a voyage of discovery into Chaumet's age-old jewelry tradition. There is also a range of exclusive services such as special order tiaras or a fitting of jewelry pieces with the wedding gown.
"This one-of-a-kind jewellery boutique entirely dedicated to marriage renews the tradition of the Maison. It all started with the love story between Napoléon and Joséphine, and since then Chaumet has always placed happiness at the heart of its creations, celebrating tenderness, love and passion," explains Chaumet.
The boutique also offers a multi-coloured bouquet of Liens solitaire rings adorned with fine stones. The Joséphine salon, showcasing blue and white creations, combining sapphires and diamonds and, last but not least, the Liens, Frisson and Joséphine models available in an array of carat weights and accompanied by their matching creations – earrings, pendants and bracelets – giving the opportunity to create jewellery sets.
Designed as an intimate cocoon, the boutique showcases the jewels synonymous with the triumph of love. The priority is on the touch and sensuality of materials to delicately reflect light and resonate with the unique Chaumet tradition. The finest noble materials create a uniquely elegant atmosphere, with pearl-grey carpets that play off iridescent mirrors and alcoves, and silky fabrics in a gradation of soft hues.