CHANEL is taking over the Parisian concept-store Colette. Colette will close permanently in December 2017.
CHANEL is taking over French high fashion, street wear, and accessory retailer colette from October 30th to November25th 2017. Numerous happenings and a selection of Ready-to-Wear and Accessories will take place in a recreated universe on the first floor of the high-end store, described at "the trendiest store in the world". Through November 2017, this pop-up space will host concerts, interviews and performances. Also on the program, there is a presentation of selected designs from the Fall‑Winter 2018 and Cruise collections, in a sculptural decor in keeping with the world of CHANEL.
For this exceptional event, profits from the CHANEL at colette operation will be donated to charity organisations supported by the CHANEL Foundation.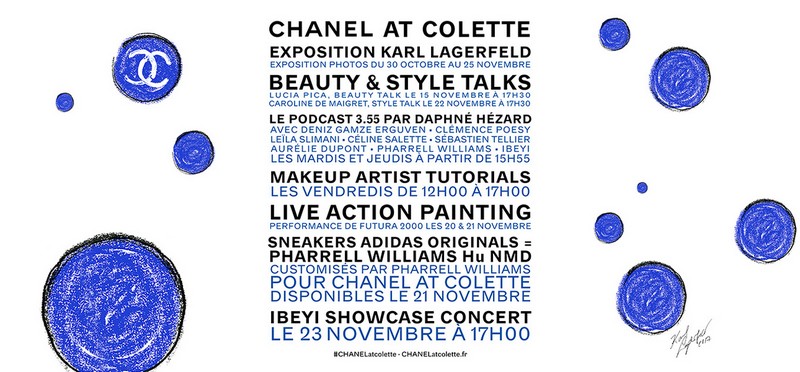 Chanel's parting gifts to the Colette department store will be available as limited-edition series: t-shirts created by Karl Lagerfeld, a compilation of music made by Michel Gaubert and, at the end of the event, adidas Originals = PHARRELL WILLIAMS Hu NMD customised by Pharrell Williams especially for CHANEL at colette.
"As part of its monthlong takeover of the concept store's first floor, Chanel will launch an Adidas Hu NMD shoe specially customized by Pharrell Williams for the house. Further stoking anticipation, it has yet to release an image of the design, though unofficial photos have been circulating on streetwear feeds," wrote WWD. 
The adidas x Pharrell Williams x Chanel collaboration will be released on November 21st, exclusively in store, at a price of 1000 euros, announced colette. No reservation request will be taken into account.
On entry the visitors are invited to plunge into a décor inspired by the 2017/18 Cruise collection "The Modernity of Antiquity", it deploys an Ariadne's thread in ecru canvas draped around the entire space. Silhouettes from the Fall-Winter 2017/18 Ready-to-Wear collection will be shown from October 30th, to be joined later by others from the 2017/18 Cruise collection from November 6th. Barrie, the brand renowned for its savoir-faire in cashmere will also be showing a selection of knitwear pieces from its Fall-Winter 2017/18 collection.
During the month, numerous happenings will be taking place; notably, the 3.55 – the CHANEL at colette podcast, where journalist Daphné Hézard will welcome friends of CHANEL, celebrated artists from the worlds of film, literature, music and dance, every Tuesday and Thursday. Caroline de Maigret, ambassador and spokesperson for the House, will be doing a talk on style and allure. CHANEL's Creative Makeup and Color Designer Lucia Pica will be sharing her vision of beauty in a beauty talk. A live action painting by Futura 2000 as well as make-up tutorial workshops held every Friday with a presentation of the CHANEL NEAPOLIS Spring-Summer 2018 collection and a showcase concert by the French-Cuban group Ibeyi, will also be on the program.
On 20th October, the luxury French maison announced that its traditional CHANEL Métiers d'Art 2017/18 collection will take place at the Elbphilharmonie in Hamburg, Germany. After Salzburg, Rome, and the Ritz Paris, Karl Lagerfeld has chosen Hamburg, Germany, as the venue for the next Métiers d'Art collection. The show will take place on December 6th at the Elbphilharmonie, designed by the architects Herzog and de Meuron, which stands in the heart of Hamburg's port.