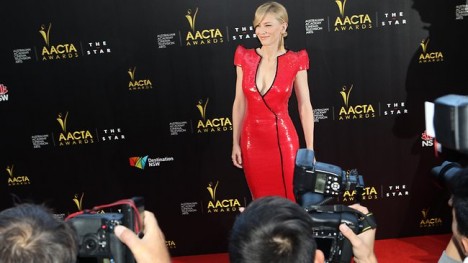 Australian actress Cate Blanchett is reportedly set to shoot a series of fragrance campaigns for Giorgio Armani, joining the Beckhams, Beyonce, and Megan Fox, who al all have been in the position of Armani ambassadors.
Reports suggest that Cate Blanchett, a regular contender on Armani star-studded front row shows, is already a muse for the designer. She will front her first fragrance campaign for a whopping $10 million.
According to dailymail, the actress is currently filming for George Clooney's movie The Monuments Men, a World War II period drama with an all-star cast that includes Daniel Craig, Matt Damon, Bill Murray, Jean Dujardin, John Goodman and Bob Balaban.
Cate Blanchett came to international attention for her role as Elizabeth I of England in the 1998 film Elizabeth and has earned several accolades, including a star on the Hollywood Walk of Fame, two Screen Actors Guild Awards, two Golden Globe Awards, two BAFTAs, and an Academy Award.
The current collection of Giorgio Armani fragrances includes: ACQUA DI GIOIA, ARMANI CODE WOMEN, DIAMONDS WOMEN, DIAMONDS BLACK CARAT (LIMITED EDITION), ARMANI MANIA WOMEN, EMPORIO ARMANI LEI/ELLE/SHE/ELLA, IDOLE, ONDE, and Armani/Prive exclusive fragrance range.
In March, Giorgio Armani celebrated the opening of the new Giorgio Armani store in Hong Kong on Canton Road. A selection of hand drawn sketches from the Eccentrico Exhibition were revealed for the occasion. The luxury house also marked the opening of the first Emporio Armani flagship store exclusively dedicated to watches and jewelry recently opened on Queen's Road, the heart of Hong Kong's business & financial district. The interiors have been carefully conceived and designed by Giorgio Armani and his team of architects in Milan, to give the space a modern, casual look.