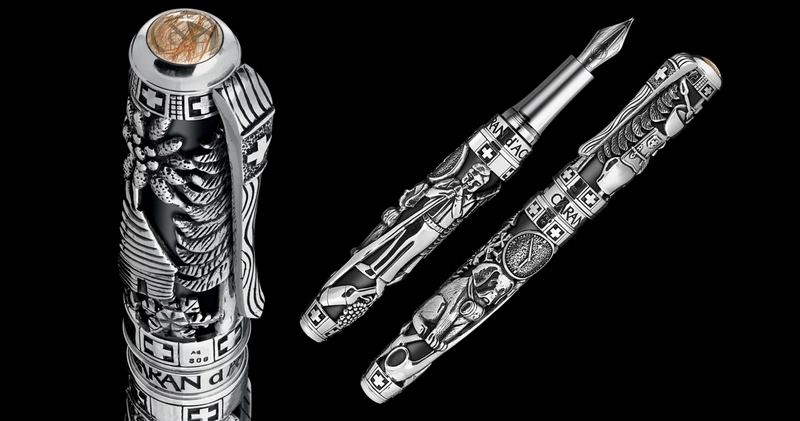 For its 100th anniversary, Swiss manufacturer of art and luxury writing instruments Caran d'Ache has imagined a tribute to its native land. Created in collaboration with a Swiss craftsman-jeweller, Caran d'Ache Spirit of Switzerland is a limited edition capturing the traditions of the Alpine nation in fourteen figurative representations, each characteristic of Switzerland's cultural identity and heritage.
Sculpted in 800 silver on mat black lacquer, these scenes stand out against the mat black body of the luxury CARAN D'ACHE pens: legendary Swiss chalets, meadows, mountain tops, Alpine horns and of course, the legendary edelweiss flower. These high-end writing instruments even contain a mountain jewel, admired since ancient times for its ornamental value: a rutile quartz cabochon that is set in the tip of the cap. To be presented at Baselworld 2016, this limited series comprises 100 fountain pens and 100 roller pens, each numbered.
The "Spirit of Switzerland" is presented in an elegant onyx-grey box, specially created for this numbered and limited series of 100 fountain pens and 100 roller pens.
Another recent limited edition unveiled by Caran d'Ache is Year of the Monkey pen, a tribute to Chinese culture. Long nurtured in the Caran d'Ache workshops, the ancestral art of Chinese lacquer is combined with the technical reliability of the writing instruments to unveil its incomparable hues after numerous, meticulous polishes.The "Year of the Monkey" limited edition follows on from that depicting the sign of the goat in the "Chinese Calendar" thematic collection, designed to perpetuate the mythology of the Chinese zodiac.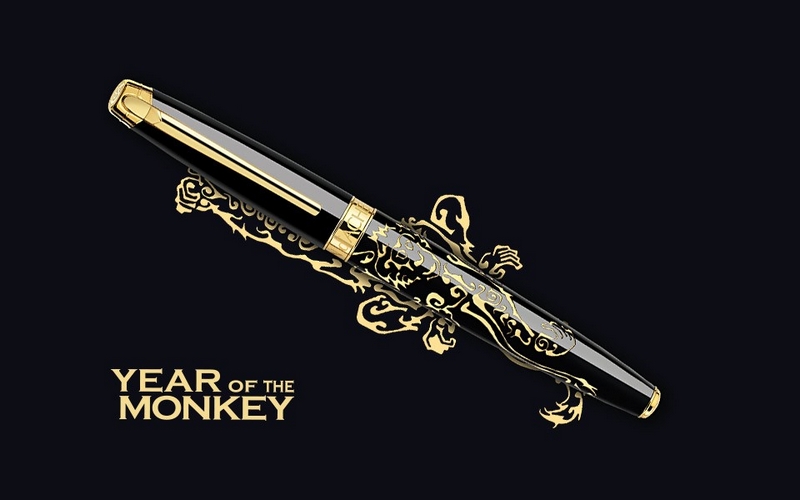 Caran D'Ache company was founded in Geneva in 1915 when Arnold Schweitzer purchased the Ecridor Pencil Factory. Schweitzer named his new company after Caran d'Ache, the nickname of a French satiric political cartoonist (who in turn took his name from карандаш (karandash), the Russian word for pencil). In 1929, Carl Schmid invented the Fixpencil, one of the first Clutch Pencils which has been trademarked by Caran d'Ache. In 2012, Caran d'Ache changed distributors from Letts Filofax Group to Victorinox.