Marmolà, one of the most meaningful models of kitchens produced by Brummel, reconfirms the elegance of its timeless style by means of its special and exclusive mat grey finishing embellished by the new ice effect.
2016 Marmolà line is enriched with real leather inserts printed tone on tone, with silver and important uprights and frames with a reinterpretation of its historical design.
The result is a composition which is characterized by a refined and fair elegance which finds its perfect place in an extremely natural way, both in prestigious period houses and in places with a contemporary design.
The value of the artisanal production, being the symbol of Brummel strength, is expressed through the inside finishing made of natural wood as well as through the drawers made of beech with a "dovetail" joint on the four sides. The handles take up the typical forms of the doors, windows and shutters of the Venetian Villas and are typical as a precious decoration of the Marmola' kitchen.
The rectangular island offers several containers that can be opened and an operational top made of marble.Marmolà fully interprets the idea of the "style of living" according to Brummel, where elegance and simplicity go hand in hand with innovation and contemporaneity deeply respecting tradition.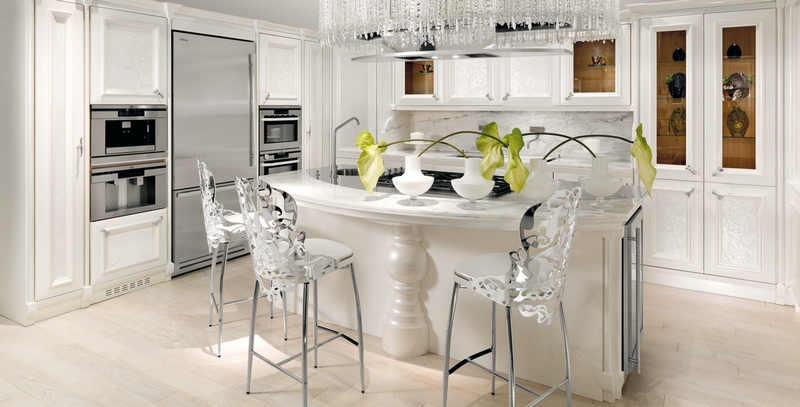 Created in 1974, Eurocucina – the International Kitchen Furniture Exhibition (12-17 April 2016, Milano) runs concurrently with the International Bathroom Exhibition in the broader context of the Salone del Mobile.Milano during even years. EuroCucina showcases all the latest in the realm of high-quality kitchens, responding to the escalating demand for functionality from increasingly savvy consumers. Its collateral event, FTK (Technology For the Kitchen), specialises in built-in appliances and cooker hoods, presenting the latest technology for "cooking" and living the kitchen space, embracing the innovative new dimension of "connectivity".