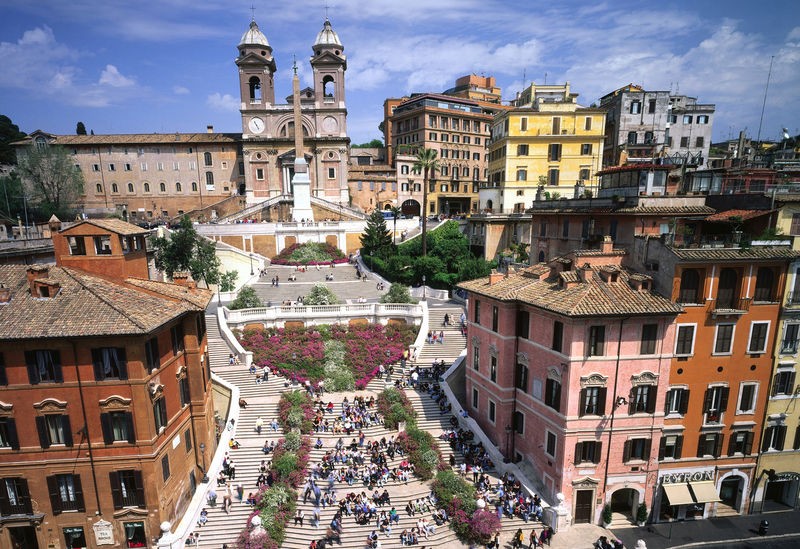 To mark Bulgari's 130th anniversary, the luxury jeweller announced it will come to rescue of Rome's Spanish Steps/ Scalinata della Trinità dei Monti, a "special gift from Bulgari to its city". Bulgari is following an appeal from Italian prime minister Matteo Renzi who called for private investors to help restore crumbling monuments of Italy.
According to Rome's mayor Ignazio Marino, Bulgari will donate 1.5m towards the two-year refurbishment of the widest staircase in Europe, which will begin in 2015. The 18th century Baroque-style stairway has 136 steps climbing a steep slope between the Piazza di Spagna at the baseand Piazza Trinità dei Monti, dominated by the Trinità dei Monti church at the top.
The culture sector in Italy has suffered from harsh budget cuts and a deep recession and funds are expected to be cut further to €1.4 billion for 2014, from €1.5 billion a year earlier, announced the media. Many churches and archaeological sites are kept permanently off limits to the public for lack of maintenance.
Salvatore Ferragamo, Tod's, Diesel, Gucci, and Fendi fashion houses are also involved in this new cultural philanthropy offering their money to restore Italy's heritage sites.
Rome's Spanish Steps monumental stairway of 136 steps was built with French diplomat Étienne Gueffier's bequeathed funds of 20,000 scudi, in 1723–1725. The stairway was designed by architects Francesco de Sanctis and Alessandro Specchi. At the top the stairway ramp up the Pincio which is the Pincian Hill. From the top of the steps the Villa Medici can be reached. During May, part of the steps are covered by pots of azaleas. In modern times the Spanish Steps have included a small cut-flower market. The steps are not a place for eating lunch, being forbidden by Roman urban regulations, but they are usually crowded with people.