Christian Dior, Kenzo, Céline, Givenchy and Louis Vuitton @ Paris Fashion Week.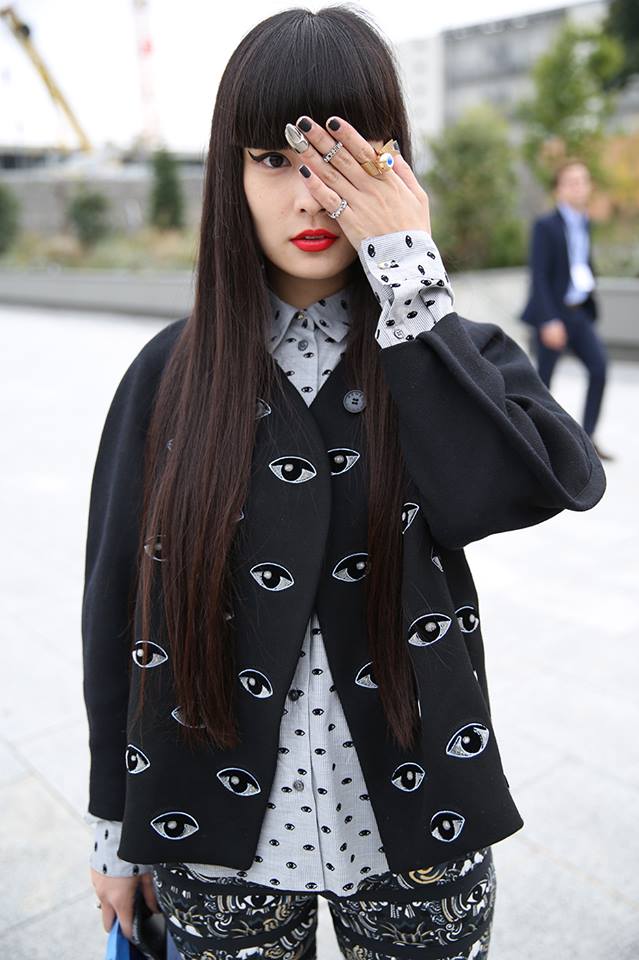 Eclectic and profoundly creative, Paris Fashion Week's shows for Spring – Summer 2014 dazzled with boundless creativity. Let's step into the
dreamy set of the Spring-Summer 2014 Ready-to-Wear fashion shows.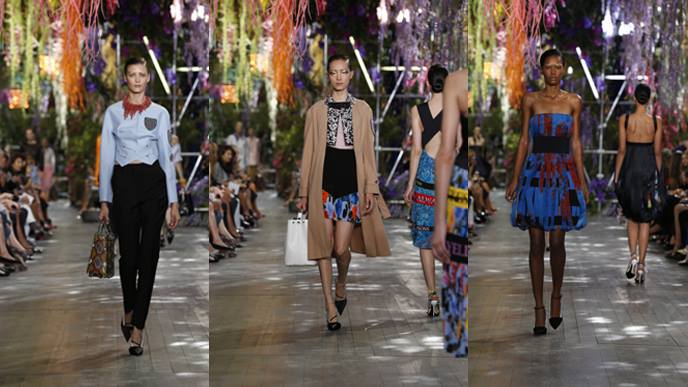 Christian Dior Spring – Summer 2014 Fashion Show
Against a magical backdrop of lush tropical flowers, Raf Simons' creations for Christian Dior alternated between blossoming
balloon dresses and asymmetric pieces, splashed with labels and bold messages. The show masterfully delved into the DNA of the mythic House
to find a brilliantly modern voice.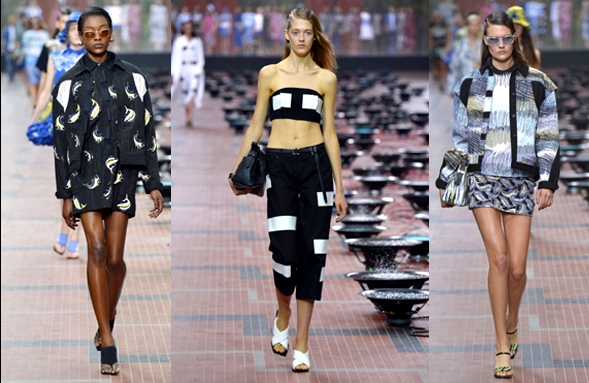 Kenzo Spring – Summer 2014 Fashion Show
There was a definite taste of California at Kenzo, where marine prints were set off by a stunning waterfall.  The show's inspiration was the ocean, including support for marine conservation, encapsulated in a sweatshirt—an instant "it" piece from the season—emblazoned with the slogan "No Fish No Nothing".
Céline Spring – Summer 2014 Fashion Show
The Céline show's is featuring delectable long tops with Japan-inspired prints, interspersed with high-contrast silhouettes. There were bags with fringe trim carried in the crux of the elbow, as well as buckled boots with amazing stack heels. Phoebe Philo left a powerful mark, combining her signature minimalism with forward-facing graphics.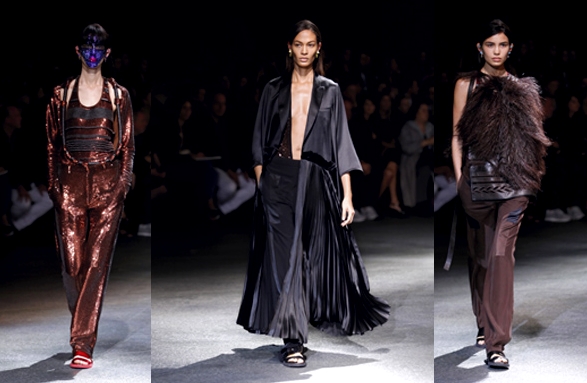 Givenchy Spring – Summer 2014 Fashion Show
Fluid Asian pleating was joined by delicate African draping at Givenchy. The allure imagined by Riccardo Tisci for next summer is ethereal
and sophisticated, a juxtaposition of minute ethnic details. All this plus sequined masks that fuse tribal craftwork with European luxury.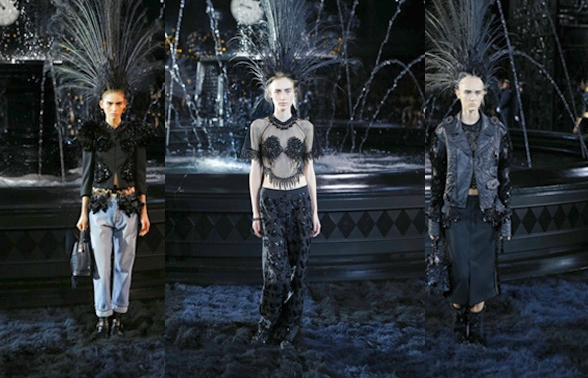 Louis Vuitton Women's Spring – Summer 2014 Fashion Show
Louis Vuitton brought the week of Paris shows to a memorable close with all-black summer silhouettes and Marc Jacobs latest show for the
French Luxury house. The fashion designer left Louis Vuitton after 16 years to concentrate on his namesake line, according to Bernard
Arnault, the chairman and chief executive of LVMH luxury group. Elevators and escalators created a melancholic universe where models glided
between a carrousel and a nocturnal fountain. Coiffed with long black peacock feathers, Marc Jacobs' lunar figures were dressed in velvet
and precious embroidery.