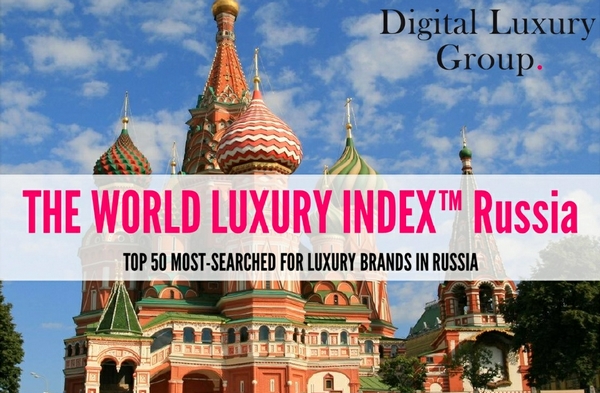 First official ranking of the most sought after luxury brands in Russia shows a strong interest for cars, and more specifically for luxury cars. BMW, Audi, Volvo, Mercedes-Benz, Lexus and Land Rover top the Top 50 most-searched for Luxury Brand in Russia ranking, unveiled by Digital Luxury Group in a first time partnership with Yandex, the leading search engine in Russia and Luxury Society, the world's largest community of luxury executives.
"With so much attention on Russia's booming luxury industry, international brands are in need of a standardized benchmark and consumer insights. With Yandex's 60% market share in search, Digital Luxury Group chose obviously the right partner to provide reliable data as the basis for this first edition of the World Luxury Index Russia," said Bernard Lukey, General Director of Yandex Europe.
As the first official ranking of the most sought after luxury brands in Russia, the unbiased information is derived from an impressive sample of more than 150 million+ consumer queries on the leading search engine in Russia, Yandex. DLG research analysts, and the Luxury Society team, uncovered a number of interesting findings from search statistics provided by Yandex.
The Russian car market is booming and is expected to become Europe's largest car market by 2014. This strong interest for cars, and more specifically luxury cars, is reinforced in the findings. Automobiles make up an impressive 73.6% of total searches for luxury brands in Russia, with BMW dominating as the most-searched for luxury brand.
Guerlain ranks third in the beauty category (after Chanel and Lancôme) in Russia. Compared to its ranking in China (10) and in the US (17) it does quite well in Russia. The ties with the country were further strengthened when Guerlain became an official sponsor of the famous Bolshoi theatre in 2011 and launched an exclusive perfume for the re-opening of the main stage.
Tropical destinations in Thailand, the UAE, and the Maldives lead in Russian luxury hotel research. Phuket, an island off the coast of mainland Thailand, is the most searched for destination within the hotel brands featured in the top 50 ranking. Of the luxury hotels in Phuket, Le Meridien captures a near majority of the attention of Russian travelers.
Data shows Russian taste for "bling" isn't just a stereotype. In the luxury watch market in Russia a notable level of searches are done for gold and diamond watches, over any other material. Plus, Swarovski, well-positioned as a brand that fits the Russian taste for bling, remains an attainable luxury, and ranks first in the jewelry segment.