In an era where the time is a luxury, and the visitor has a lot of opportunity to filter and choose from where to take what he needs, we thought it is imperative to publish a post dedicated to the best luxury blogs, luxury magazines and luxury publications.
As a luxury blog & magazine we were born in 2008, but 2LUXURY2.COM became fully international and worldwide known after its official launch in Paris in 2011 during the 1.618 Sustainable Luxury Fair Paris. In all these years we have been present in flesh and bone at prestigious events such as Top Marques Monaco, BaselWorld,  Esxence,  EBACE, Concorso d'Eleganza, Salone del Mobile Milano,  just to name a few.
Today more than 70k visitors around the globe  are reading and following us on each month. From the website to our dedicated channels on Facebook, Linkedin or Twitter. You too can be part of our team of authors if you are a specialist in your domain and, of course, if you enjoy writing and want to rise your awareness.
But, let's go back to main subject. Probably you may wonder how those choices appeared on the list bellow instead of others. The criteria were: the awareness of the publication, the nature and the source of the luxury news, design and complexity of the presented articles. There was not an easy job, more than 200 luxury magazines and blogs being under our scope.  We did not included in our recommendation niche blogs and magazines dedicated to different segments in luxury industry ( for example watches, perfumes, yachting).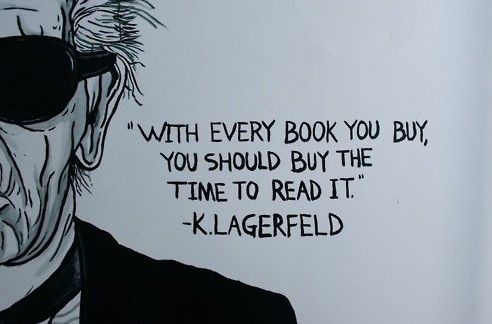 Photo above: Karl Lagerfeld's famous quote about the time needed for reading books. We think that is similar for the web publications as well.
Best of luxury blogs & Best of luxury magazines:
We could not forget the big players in the luxury media industry, as these  are part of our daily feeds.
So here they are :