Celebrity Chefs take to the rails with Belmond in 2015.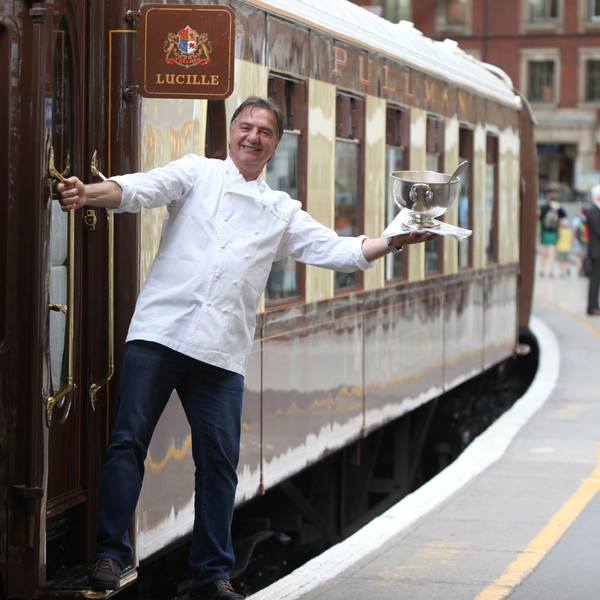 Luxury trains in the UK are transformed this year into Michelin-grade fine dining restaurants. The Belmond British Pullman and the Belmond Northern Belle luxurious art deco carriages will be hosting pop-up dinners by a select group of top UK chefs that includes Raymond Blanc, Tom Kerridge and Anton Mosimann.
From award-winning 'pub food' to 'Cuisine Naturelle' with the Royal seal of approval; the pop-up dinners on board Belmond British Pullman and Belmond Northern Belle are exclusively for just 100 guests. Each evening promises to be a theatrical culinary experience, with guests meeting the chefs as they pass through the train's carriages.
The host of BBC One's Saturday Kitchen, James Martin boards both trains this year. He will showcase dishes from his career spanning over 20 years at the first 'pop-up' event on board Belmond British Pullman, London on 12th March, before hosting a traditional Sunday Lunch on Belmond Northern Belle on 31st May 2015. James' show is a platform for many well-known and up and coming chefs, and a regular slot for many of the names coming aboard this year.
Tom Kerridge, Chef Patron of the UK's only two Michelin starred public house, The Hand & Flowers, is set to re-create the pub experience on board Belmond British Pullman- becoming 'train publicans' for the night. He and his team will host the dinner on 12th July 2015.
Mosimann's, tucked away in Belgravia, London, is one of the most prestigious private dining clubs. Its gourmet expertise is a favourite with royalty. Cooking for guests on 9th October 2015, Anton Mosimann's ethos of 'Cuisine Naturelle' is evident in each dish, using only fresh ingredients and avoiding the use of oils, fats and salt.
Raymond Blanc, OBE, is to return with his team, from the critically acclaimed Belmond Le Manoir aux Quat'Saisons in Oxfordshire, to Belmond Northern Belle's Galley Kitchen as the train departs from York for dinner on 6th November 2015.
Dining on board either Belmond British Pullman or Belmond Northern Belle, sister trains to the Venice Simplon-Orient-Express, is one of the UK's most exclusive and luxurious dining experiences. With the 1920s and 1930s art deco carriages, passing scenery and exceptional personal service by liveried stewards, the trains evoke the golden age of travel; allowing guests the opportunity to engage with a period of time when travellers were elegantly dressed and had the time to slow down and enjoy the journey.