2luxury2's team at Baselworld 2013.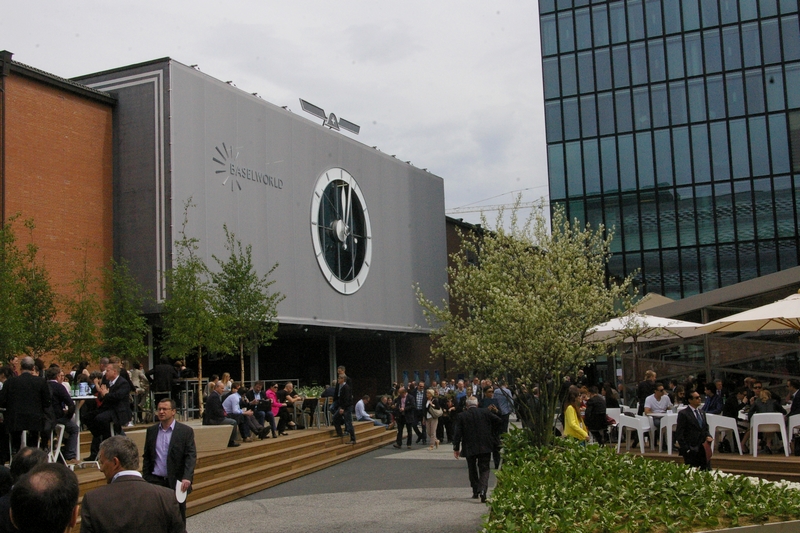 The leading show for the watch and jewellery industry BASELWORLD, opened in Basel on Thursday, April 25, 2013 presenting the innovations and trends of the industry. The fair proudly unveiled a new mega hall complex designed by Basel architects Herzog & de Meuron, a giant brand book – a premiere in the history of the event, new specialised dedicate halls, and guided tours focused on the architecture and fashion aspects of the novelties.
There are not only stands at the completely redesigned BASELWORLD Watch and Jewellery Show. Created to convey a luxurious shopping mall feel, Baselworld offers amazing design concepts and revisited looks, even if booths look sometimes very hermetically conceived. With their spectacular stand structures, the watch and jewelry exhibitors are giving the show an even greater radiance than ever before.
In the course of BASELWORLD 2013, which runs through 2nd of May, 1460 exhibitors from the watch and jewellery industry, from a total of 40 different countries, are presenting their latest models and collections.
"Of course we are benefiting from an industry that is at the pinnacle of its growth. Since 1999, the Swiss watch industry has doubled its export figures and has, incidentally, broken all its previous records in 2012. Today, it is thanks to this excellent state of health of the industry that we are able to present the show to you in its attractive new look," said Jacques J. Duchêne, President of the Exhibitors' Committee at the press conference.
"Despite all this, we remain realistic in considering the future of our industry. In a worldwide business environment, in which there is often no tranquillity, solidity or continuity, we are forced to be frank in admitting that the watch industry constitutes an exception. "
"Nonetheless, even in the face of all the economic imponderables, we remain optimistic for the current year. Our view is that exports are going to stay on a positive course in 2013, that the watch industry is going to continue to grow and that BASELWORLD is going to be part of this future," added Jacques J. Duchêne, who also spoke about combatting counterfeits:
"We have been fighting against this scourge for a long time and we have chalked up several successes, but we must not allow any easing up in our efforts. It is a never-ending battle. Every confiscation is a step forward, a bit of territory reconquered. Let us stay on our guard, not only as manufacturers, but as consumers too."
The world of high-end designer brands focuses ever more strongly on technological innovations and design uniqueness. The key fashion houses – such as Dior, Gucci, Hermes, Chanel continue to focus on women and turning to colour. Monochrome is out, vibrant colour mix is in.
A brand new hall at Baselworld 2013 highlights spectacular gems. In the Hall of Elements, the visitors can find fantastic loose gems, alongside beautiful new and estate gem-set jewels. With so many different varieties and qualities of gems, one might feel a bit overwhelmed trying to choose where to start. The world's most important machine manufacturers and representatives of the supply industry are present in their own hall. Their high-grade products can be found in the redesigned Hall of Innovations for the first time this year.
It is true that "BRILLIANCE MEETS" sums up what can be experienced here at Baselworld 2013: never before have so many creative minds worked on BASELWORLD and come up with such an inspired diversity. Stay close for more insights and photos from 2luxury2's team at Baselworld 2013.
BASELWORLD 2013 – THE WATCH AND JEWELLERY SHOW FACTS:
Visitors (expected) 100,000 from 100 countries
Journalists (expected) 3500 from 70 countries
No. of exhibitors 1460 from 40 countries
Exhibition space 141,000 m2
No. of halls 12
No. of new stands 2013 1000
Biggest stand 1625 m2
Smallest stand 6 m2
Length of stand facades – 21 km
Steel in stand structures 6300 tons
Tradespeople required to construct stands 20,000
Lorry loads of equipment for stand construction 7000
Stand personnel for 8 days – 25,000
Cleaners (daily) – 400
Visiting cards exchanged 6,000,000.