Bang & Olufsen launches new all-inclusive, surround sound speaker system. 
High-end surround performance into surprisingly small volumes.

To enjoy home cinema in all its complexity, Bang & Olufsen, the Danish manufacturer of high-end audio products, television sets and telephones, launches new surround sound speaker system that looks good without compromising the interior décor.
"The launch of an all-in-one surround speaker system is an important new step for Bang & Olufsen," explained Bang & Olufsen CEO, Tue Mantoni, "and it builds on our core approach that sound matters in everything that we do. Now we bring genuine Bang & Olufsen sound to anyone who wants the advantages of surround without having to hide away the subwoofer."
BeoLab 14's strong sonic performance is due to its sculptural subwoofer, with 280 watts of dedicated power for its 8″ downward-facing driver, the active sub delivers ample bass tones at the lowest frequencies – (down to 26 hz). The stylish sub also contains connections for five active satellite speakers (along with five individual 140 watt amplifiers with separate equalizers for each of them), a very capable Digital Signal Processor, Adaptive Bass Linearization (for cultivated bass, no matter what the peaks), room adaptation switch, line sense, Power Link connections for Bang & Olufsen components, and an A/V multi-connector for other components.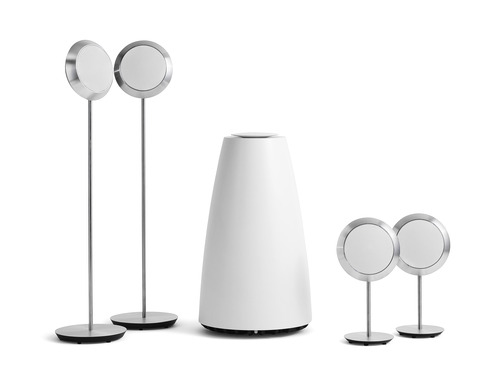 "BeoLab 14 is the result of a lot of work with our Listening Panel," says Jens Rahbek, senior sound engineer in the R&D department. "Even with the very best components, sound is a subjective experience. We tune our speakers in a process that includes hours of listening – by different people, in different room environments, at different stages of development – in order to achieve sound that is as close as possible to what the original artist intended."
"With its competitive price point, convenient set up, multiple placement options, hallmark design, and robust sound performance, we believe BeoLab 14 will resonate with many music lovers and style seekers who may not yet own a pair of world renowned Bang & Olufsen speakers," states Zean Nielsen, President of Bang & Olufsen America.