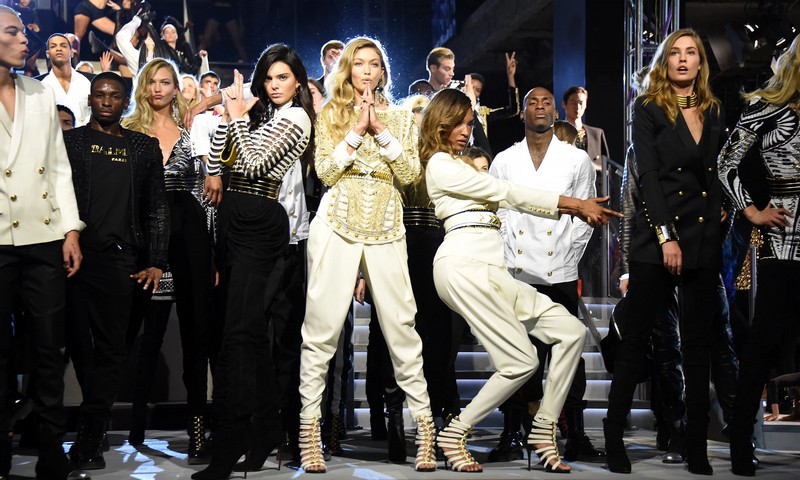 ---
This article titled "Balmain x H&M: the high-street's answer to super-glam partywear" was written by Jess Cartner-Morley, for The Guardian on Wednesday 21st October 2015 12.13 UTC
The aesthetic of the Parisian house of Balmain embraces the pearl-encrusted pomp of the courts of Henry VIII, the lethal shark-fin shoulders of a Carrington cocktail party in Dynasty, and the megawatt sex appeal of the Kardashians. This is fashion at its most brazen.
Which goes some way to explaining how Balmain has the front to put a £400 price tag on an H&M dress. When the high street diffusion Balmain x H&M collection goes on sale on 5 November – the final push of a campaign masterminded by designer Olivier Rousteing and slugged out on the internet via the social media firepower of his photogenic Balmain army of supermodels – the collection will include a dress embroidered from neck to hem in three lengths of cylindrical black and white bugle beads and thousands of tiny gold and diamante gems, arranged in an intricate and figure-flattering pattern, which will sell for £399.99.
Four hundred pounds is a lot to pay for a dress for which you will probably have to queue from dawn on a cold November morning before doing battle on a frenzied shopfloor. Conventional wisdom suggests that above a certain pricetag, consumers expect a more edifying shopping experience. On the other hand, a fully beaded party dress from the Balmain mainline collection this season will set you back a cool £8,500. Looked at that way, £400 represents a bargain.
At a press preview in the H&M headquarters, the collection looked impressive. Close inspection of the most expensive pieces showed workmanship which, while nowhere near the immaculate standards of Balmain's ateliers, appeared significantly better than most high street partywear. Beading is uniformly spaced, edges secure, zips sturdy and all the pieces are fully lined.
But more valuable to the H&M customer will be the high fashion dosage in this collection. The last diffusion collection for the brand, by Alexander Wang, injected the spirit of that brand in an abstract way into mass street-meets-sportswear. This collection is – you guessed it – more brazen. Many pieces are almost directly lifted from previous Balmain collections. A double-breasted black velvet jacket with pearl and diamante embroidery, recently worn in its H&M incarnation by Kendall Jenner on the red carpet, is near-as-makes-no-difference to a look from the autumn/winter 2012 collection. Jewel-coloured draped and ruched silk miniskirts were seen in the autumn/winter 2013 collection. A tight-fitting, semi-transparent navy top ornately laddered with horizontal ropes of silk is lifted from the autumn/winter 2014 catwalk.
Rousteing has spoken in interviews about the challenges of growing up black and gay, adopted into a white family in a conservative Catholic suburb of Bordeaux, and how he came to see fashion as a way to define and create identity. His Balmain wardrobe is a teenage fantasy of dresses for supermodels to wear backstage at music awards shows: with the H&M collection, he welcomes thousands of new customers to his Balmain army.
At school, Rousteing has said, it was maths that he excelled in, not art. Beyond the showpiece dresses is an accessible collection mostly priced under £100. The top-selling piece is likely to be the simple Balmain logo T-shirt, which sells for £25. A cream crepe tuxedo jacket in ivory silk, fitted at the waist with a single gold button and with five smaller gold buttons at the cuff, military style, is an evening classic and good value at £80. The soft drapes of a satin miniskirt conceal a rigid underlayer, a high-end technique for a flattering, non-bulging fit that is often missing on the high street and well worth spending £60 on. A gold-buttoned woollen peacoat with a cosy quilted lining is a practical piece for the time of year, and good value for £120.
The menswear, which, with its penchant for gold brocade trimmings, would look most at ease in a 1980s Michael Jackson video, is undoubtedly niche. But a green army shirt with frayed gold and red silk epaulettes looks good for £50, and so, too, does an olive wool greatcoat. And the £30 black and gold, rope-braided earbuds – "inspired by the decorative details of a Balmain belt" – look set to be the season's most hotly fought-for stocking filler.
guardian.co.uk © Guardian News & Media Limited 2010
Published via the Guardian News Feed plugin for WordPress.