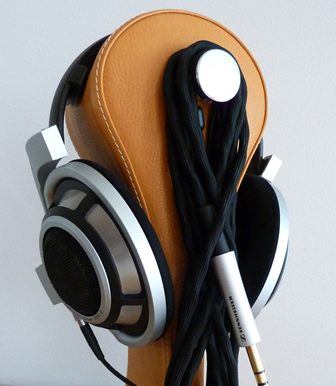 When you're done listening, the great sounding headphones deserve to be stored in a nice box or a special shelf. Klutz Design completes out audiophile home catalog with a limited edition of the CanCans clad entirely in sumptuous leather by Ballerina Sweetspot (one of the world's first purpose-built listening chairs) leather craftsman.
CanCans is the ultimate headphone stand that provides you with a prominent place to keep your headphones – in eager anticipation of your next listening session.
On its own, CanCans is a beautiful design detail to anyone's home. With a pair of headphones resting in its cradle, it is a signal that here lives someone who appreciates listening to good music.
Crafted in Sweden, the Leather CanCans limited edition is only available in two colours – dark brown chocolate/cofee and in tanned leather. Only 3 units of each have been made, and can only be purchased directly from Klutz Design webshop.
The Polish audiowebzine High Fidelity has given the CanCans headphone stand its "Red Fingerprint Award" – only the second product ever to receive this award.
"… That's a lot of money. Until we saw and touched the CanCans – then we knew it was really just that, worth its price. It is not just a fantastic stand, we get a true work of art and our headphones have never looked so beautiful. And that is worth paying for, because even though everything else may change in our system, the CanCans will stay forever," explained audiowebzine High Fidelity.