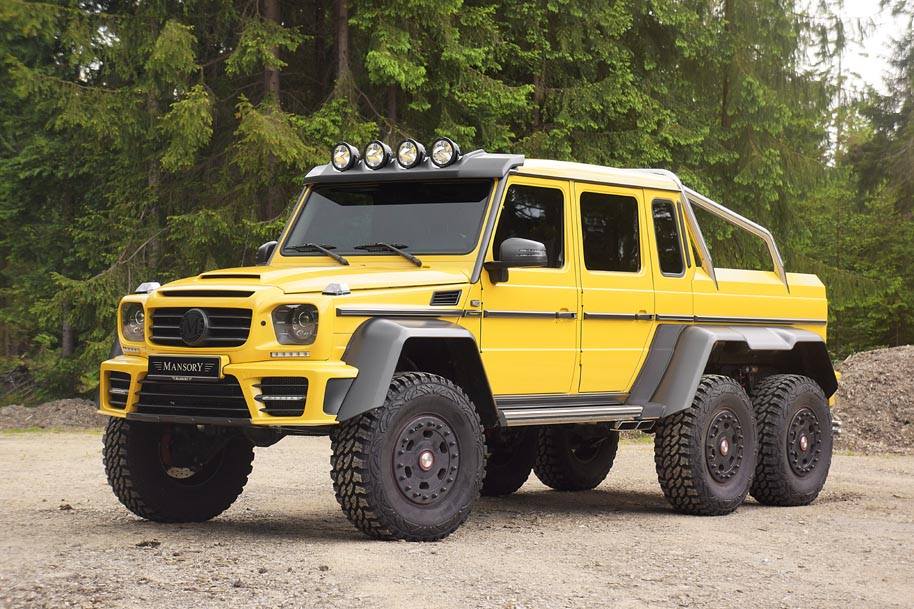 Mercedes-Benz AMG 6×6 is the tallest, the widest, the most powerful mega- off-roader and it also has the most driven wheels. But as with all superlatives there's always someone who can just go that one step further. In this case, it's the specialists at Brand-based German luxury car modification firm Mansory.
As a real off-road superstar, the Mansory optimised all-terrain vehicle is equipped now with ultra-light carbon bodywork components, a luxurious interior and anincrease in engine performance. The standard bonnet was replaced with a carbon conversion with extra air inlets for the front engine. The AMG 8 cylinder twin turbo has been completely reworked and genuine racing components have been installed.
No matter whether they're unpainted carbon, or painted to match the colour of the car – the specialists manufacture all components in the new aerodynamics programme using prepreg autoclave carbon characteristic of Mansory.
Together with the re-designed exhaust system, from the manifold to the stainless steel double end pipes that are exposed at the front of the rear wheels, outstanding performance results are achieved. Instead of 544 PS (400 kW), the Mansory 6×6 achieves an impressive 840 PS (618 kW), while the maximum torque rises to an electronically limited 1000 Newton metres.
The interior can be customized with an almost endless combination of leather, Alcantara, wood, carbon, or aluminium trim elements, and practically any imaginable technical feature, says the high-end tuning specialist.