Audemars Piguet – Royal Oak 40 years exhibition. From Avant-Garde to Icon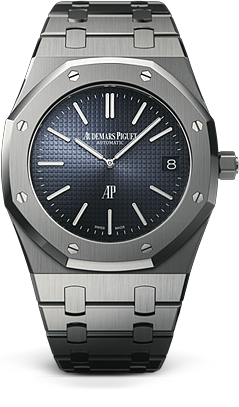 To celebrate the 40th anniversary of Audemars Piguet's iconic timepiece Royal Oak, the world's first ever luxury sports timepiece, the Swiss Manufacture from Le Brassus in the Vallée de Joux has put together an ephemeral New York exhibition that explores the journey through the origins of the luxury timepiece which sparked a complete paradigm shift in the watch industry.
Using design, photography, sound and film from three unequivocally 21st century artists, Sebastien Leon Agneessens, Quayola and Dan Holdsworth, the Manufacture has curated an exhibition of 100 exceptional timepieces set against the backdrop of a stage that underscores Audemars Piguet's origins, mastery and artistry.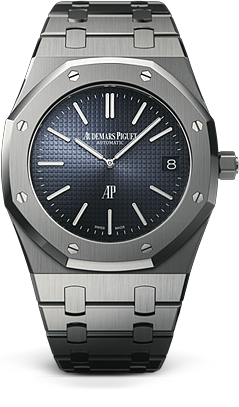 "Major breakthrough. Decisive turning point. Timeless legend. With the hindsight of 40 years, watch enthusiasts widely hail the spectacularly unconventional Audemars Piguet Royal Oak dreamt up by late designer Gérald Genta in 1972 as a milestone in horological history. To the point where some might be tempted to forget that today's icon was the target of fierce initial criticism and even contempt. Born amid a climate of
artistic experimentation and intellectual effervescence, it overturned the far more conformist customs of mechanical watchmaking," commented Jasmine Audemars, Chairwoman of the Board of Directors.
What better way to celebrate the 40th anniversary of a design icon than to present an exhibition expressing the innovative perspective of contemporary artists?
Dan Holdsworth's photographic work documents the Vallée de Joux, the place where this story started, at its stillest hours, capturing the ancient forests and glacial topography under the celestial presence of mist or moon to convey the extraordinary temporal significance vested in the landscape.
Matter, Quayola's time-based digital sculpture, plays with The Thinker as a metaphor for the ethos and approach behind the Royal Oak. One may say that, like Audemars Piguet, Rodin first mastered the rules of the academia to then eventually break them to create the iconic sculpture that is now considered the bridge with modernity.
Sébastien Léon Agneessens' sculptural and sonic installation features massive metallic rock fragments inspired
by the Royal Oak's materiality and angular shapes, while offering a new experience of time by infiltrating the
intrinsic sounds of timepieces and by rearranging ambient recordings from Le Brassus.
Together they provide the perfect backdrop against which to stage the epic saga of the Royal Oak – iconoclast turned icon and which so vividly embodies Audemars Piguet's enduring spirit of independence.