Auction houses outfox Chinese antiquity fakers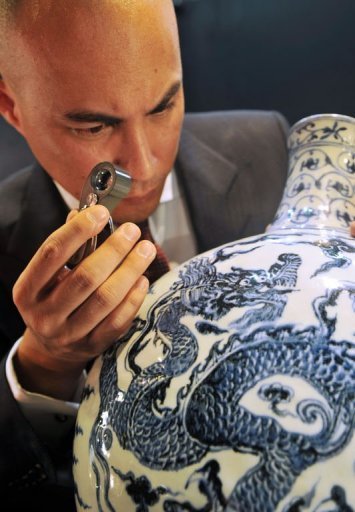 The demand for Chinese antiquities has exploded, helping propel Hong Kong to third spot in the global auction market behind London and New York.
Auction houses Sotheby's and Christie's together raised over $460 million from sales of Chinese antiquities and art works last year, but the market has also generated a slew of fakes from con-men hoping to make big bucks.
"There are many fakes on the market, and there are probably more now because the price of these antiquities have increased dramatically," Tang Hoi-chiu, chief curator of Hong Kong's Museum of Art, told AFP.
Facts and figures about the black market in antiquities are difficult to come by, although many fakes are produced in mainland China, said Rosemary Scott, international academic director to Christie's Asian art departments.
Rosemary Scott has seen fakes many times larger than they should be and other amateur mistakes that can make determining authenticity a 30-second operation.
Most genuine works come from established collectors, but ordinary people also tap auction houses to authenticate pieces that may have been in their families for years, or ones they bought without first confirming their credentials.
In other cases, phony collectors "just ask too many questions" when they are told a piece is not genuine, suggesting they are trying to learn how to make a more convincing fake that will evade detection, Scott said.
Auction houses have even pulled items displayed in pre-sale catalogues when doubts about their authenticity lingered.
Sotheby's, spotting fakes means taking stock of every minute detail, although experts are not keen to reveal all their secrets for fear they could fall into the wrong hands.
"But after some time you just get a feel," Chow said.
"If you lift 50 similar Ming vases and know this one is not the right weight, then you know something is wrong — it's like your bag with and without a laptop," he added.
"I'm not saying fakers can't get one thing right, but to get it all right is really difficult."