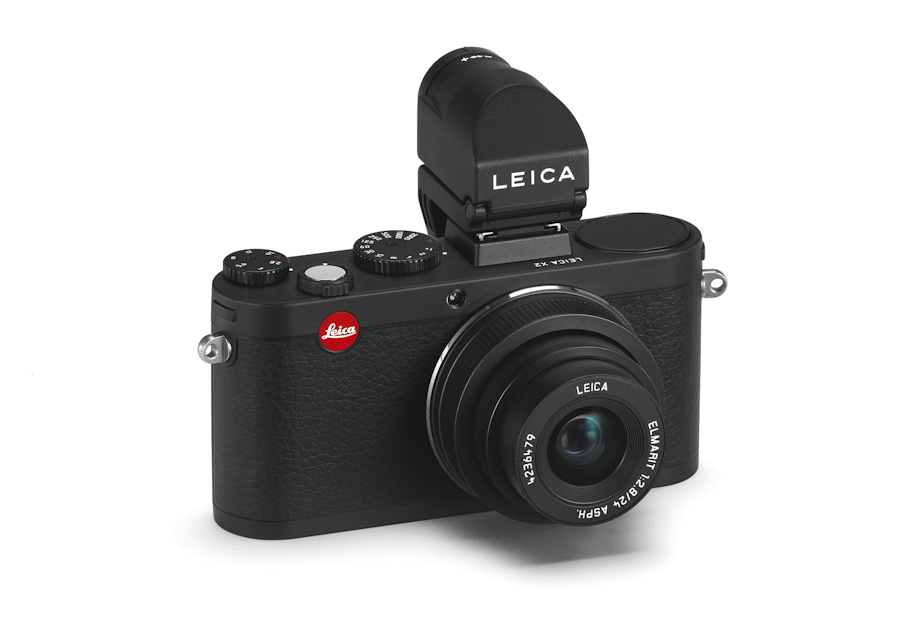 Leica's X1 camera has a noble follow-up with a 100% classic DNA, reminiscent of the Leica M-cameras. Leica X2 is the new addition to the X-line of compact digital cameras capturing the moments in brilliant picture quality.
Handmade at Leica's headquarters in Germany, the Leica X2 features a new APS-C-format professional CMOS image sensor with over 16.5 megapixels (effective 16.2 MP). In combination with the high-performance Leica Elmarit 24 mm f/2.8 ASPH. lens, a classic focal length for photojournalism, this sensor ensures maximum image quality and sparkling brilliance. The price of the Leica X2 is $1,995.00
The Leica X2's autofocus system has also been enhanced, allowing the camera to adapt to all shooting situations with enormous flexibility and enabling fast, extremely precise and almost silent focusing.
Thanks to the ease of switching between manual and automatic control, photographers can concentrate on composing their subjects and choosing the decisive instant to shoot in any situation, suggests Leica.
The dedicated accessory range currently includes two viewfinders for the hot shoe, a flash unit, a camera protector, a handgrip and a hand strap. In addition, a range of excellently finished cases and bags offer perfect protection for the camera.
Technical data LEICA X2

Lens: Leica Elmarit 24 mm f/2.8 ASPH.8 elements in 6 groups1 aspherical lens
Focal length: 24 mm (36 mm equivalent in 35-mm format)
Apertures: 2.8 to16 (1/3 EV increments)
Focusing range: 30 cm–infinity
AF focusing: 1-point, 11-point, spot, face detection
Image sensor: APS-C CMOS image sensor with 16.5 MP (effective 16.2 MP)
Resolution: JPEG in 3:2 format: 4928 . 3264 pixels (16.1 MP), 4288 . 2856 pixels (12.2 MP), 3264 . 2160 pixels (7.1 MP), 2144 . 1424 pixels (3.1 MP), 1632 . 1080 pixels (1.8 MP) DNG in 3:2 format: 4944 . 3272 pixels (16.2 MP)
Image quality: JPEG super fine, JPEG fine, DNG + JPEG super fine, DNG + JPEG fineExposure control
Exposure modes: Automatic program (P), automatic aperture priority (A), automatic shutter priority (S), manual setting (M)
Exposure compensation: Increments: 1/3 EV increments, range: ±3 EV
Automatic exposure bracketing: 1/3 to 3 EV increments, 3 exposures
Metering modes: Smart multi-segment metering, center-weighted metering, selective (spot) metering
White balance: Auto, halogen, daylight, flash, cloudy, shade, electronic flash, 2 manual settings, manual color temperature setting with fine tuning
ISO sensitivity: Auto, ISO 100, ISO 200, ISO 400, ISO 800, ISO 1600, ISO 3200, ISO 6400, ISO 12500
Shutter speeds: 30 s–1/2000 s
Continuous shooting: 3 fps or 5 fps, max. 8 consecutive exposures with constant shooting speed in DNG + JPEG fine quality
Film modes: Standard, dynamic, natural, b/w natural, b/w high contrast
Flash
Flash modes: Auto, flash exposure correction, red-eye correction, fill-in flash, slow sync, studio, 1st/2nd curtain sync
Hot shoe: Compatible with Leica SF 24D, Leica SF 58 flash units
Monitor: 2.7″ TFT LCD with 230,000 pixels, wide-angle field of view: 100%