Valentine's Day ideas: Cupcakes Gourmet Rolls Out the $55,000 Sparkling Red Velvet Cupcake
The Made-to-Order Red Velvet Cupcake Features an 8-Carat Diamond Engagement Ring From Warwick Jewelers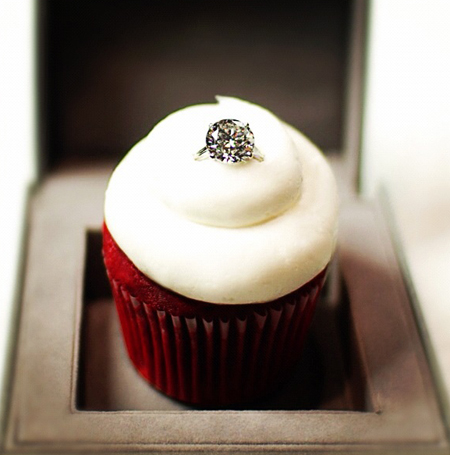 "To say, 'Will you marry me?' or 'I love you' with a diamond ring and a cupcake is simply romantic. Philadelphia's couture cupcake shop, Cupcakes Gourmet (named by Brides magazine as one of four best couture bake shops in US in 2011), is offering its popular red velvet cupcake with a sparkling addition—a $55,000 engagement ring from Warwick Jewelers.
Warwick Jewelers, a PA-based jewelry store that has been in business since 1919, has committed to offering a 15% savings on selected engagement rings that will be sold through this special Cupcakes Gourmet offer. Smaller variations of the red velvet diamond sparkler cupcake are available starting at half carat.
The first guest who purchases the special sparkling red velvet cupcake will also receive free wedding cupcakes if they book their wedding with Cupcakes Gourmet.
"There's no sweeter way to pop the question to your significant other than with a dreamy cupcake with a diamond engagement ring sitting on top," said Maki Garcia-Evans, owner and executive pastry chef at Cupcakes Gourmet. "A diamond is worth a thousand words, but with a cupcake, it's worth more. It suits our store's slogan, 'Love Tastes Like This.'"