The Immersive Audiophile Pod.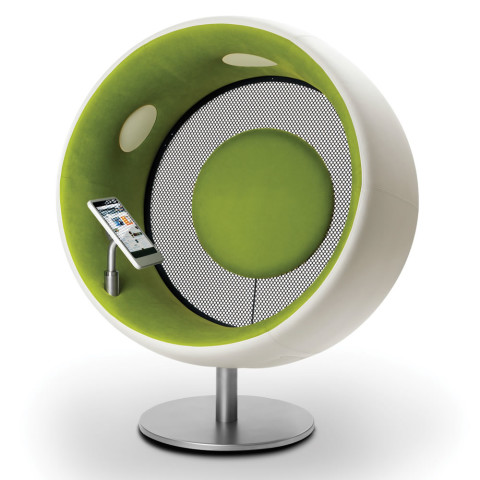 The five speakers built into the ceiling of this Immersive Audiophile Pod with separate tweeters, midrange drivers, and central subwoofer create an immersive audio experience that is not only heard but also felt.
The device creates frequencies down to 16Hz—sounds humans cannot hear but can feel through the vibrations transmitted by a structure-borne membrane inside the backrest. The listener will be placed in the midst of an action movie or an orchestral performance. The pod resonates crisp sound at any volume while blocking out background noise, while the stainless steel base rotates the pod up to 350°. The $32,000 Audiophile Pod with an aniline-dyed leather exterior and plush microfiber upholstery is crafted by hand in Cologne, Germany.
A specially developed six-channel amplifier with an integrated digital signal processor enables independent regulation of the high- and mid-range speakers and subwoofer, allowing precise customization of sound. The included 16 GB iPad rests in a swiveling anodized aluminum mount and provides content from one's music library or the Internet, while built-in RCA ports allow connection to an external audio source.