U.S. Submarines' Phoenix 1000 – the largest private undersea vessel built to date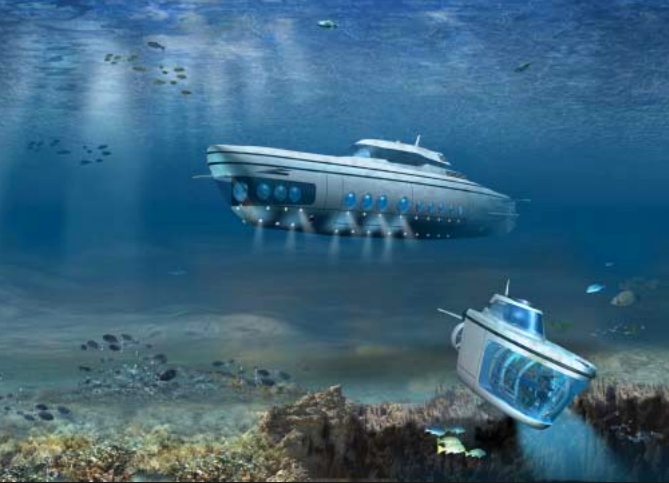 This "toy" is capable of taking you to unseen regions of the deep ocean in perfect comfort and absolute safety. The Phoenix 1000 is the ultimate personal transportation device, 65 meters (213 ft.) in length with 470 square meters (5000 sq. ft.) of interior space on 4 levels.
The bigger sister to a fleet that includes the Triton 1000, the Discovery 1000, the 65′ Nomad 1000, and the 118′ Seattle 1000, The Phoenix 1000 is the largest private undersea vessel built to date.
The Phoenix 1000 provides its owner with substantially more capability than a simple yacht – the opportunity to explore the depths of the world's oceans in perfect comfort and safety. The Phoenix is capable of making trans-Atlantic crossings at 16 knots yet can dive along the route and explore the continental margins of some of the most fascinating waters on earth. And unlike surface yachts, when the water gets rough, the submarine can submerge into a perfectly smooth and quiet environment, continuing on toward its destination, providing a ride unsurpassed in quality-unequaled by the finest motor coach or the most luxurious executive aircraft.
The inside of the luxury submarine is air conditioned and temperature controlled. Regardless of the operating depth of the submarine, the interior of the passenger cabin remains at surface pressure, which is one atmosphere. As a result, there are none of the pressure induced physiological effects experienced by SCUBA divers. A guest aboard a submarine can stay comfortably submerged for as long as desired, and the submarine can dive or surface at any rate.
The superstructure itself is composed principally of aluminum (or FRP if the owner prefers), and it houses the deck saloon pressure vessel and also provides the structural base for the flying bridge. There is a large degree of latitude possible with regard to the styling of the structure, with the caveat that its hydrodynamic efficiency will have a significant effect on the submerged speed of the submarine.
The aft portion of the saloon has a large acrylic window, providing a view astern that also acts as a large hydraulically operated hatch. A small automobile could be kept in the aft section if desired.
The main passenger area consists of two decks, each 31 meters (102′) long and 6 meters (20′) wide.
Suitable for use as an exclusive submarine cruise ship or as a charter yacht, the estimated price of the Phoenix is $78 million.
In the 14 year operating history of the submarine industry there has never been a single serious injury or fatality to any passenger. The submarine industry has a perfect safety record and so, civil submarines are statistically the safest form of transportation in the world today.