Luxury fashion industry has been comparatively slow to attend to followers on social media, says study.
Artists, executives and students are most likely to discuss luxury fashion on social media, while politicians have almost no interest in the topic.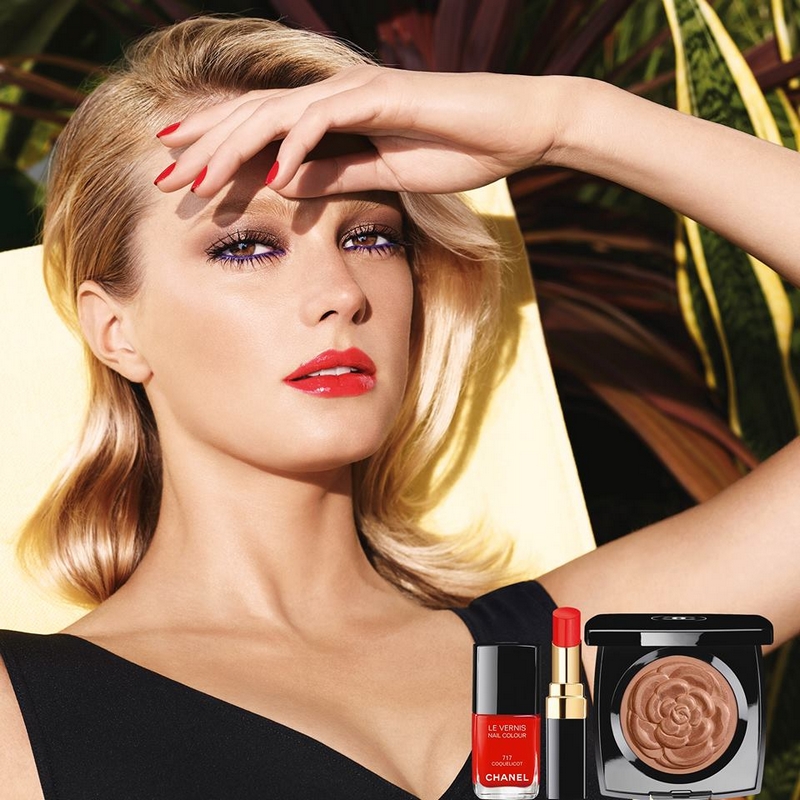 While some luxury fashion houses have strong social followings, many high-end brands are surprisingly inactive on social media, overlooking a huge opportunity to leverage social intelligence insights across marketing, merchandising and other departments across the enterprise, says 2015 Fashion & Luxury report issued by social intelligence company Brandwatch.
The report finds that on an average day a luxury fashion brand tweets and posts on Facebook less than two times on each platform; substantially less than leading food and beverage brands that tweet nearly 27 times and post less than two times on Facebook in an average day. Furthermore, luxury fashion brands rarely respond directly to their audience, averaging less than one reply, retweet and comment per day. Again, that is substantially lower than the food and beverage industry.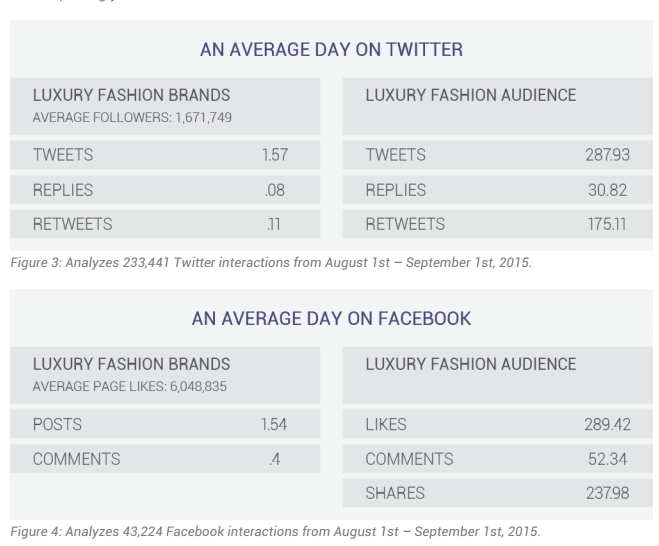 "The luxury fashion industry has been comparatively slow to attend to fans and followers on social media, with a
few exceptions, which is surprising given this industry's commitment to top notch customer service and quality,"
commented Adam Edwards, sector director at Brandwatch. "Luxury customers expect white glove service and, done
right, social affords these brands a powerful platform for engaging and strengthening customer loyalty."
To produce the report, Brandwatch analyzed 721,140 social conversations featuring 32 luxury fashion brands such
as Michael Kors, Tory Burch, and Armani on Facebook and Twitter and evaluated these brands across five key
categories: social visibility, general visibility, net sentiment, reach growth, and social engagement and content.
Tommy Hilfiger is overrepresented by Executives and Journalists but leans less toward. Artists and Students than
either Burberry or Dior.
Dior has the highest prevalence among Artists (43.50%) and is well represented among Students. However, Dior
generates less chatter from Executives and Journalists.
Meanwhile, Burberry maintains a more balanced following and is strongest among Students, Sales/Marketing/PR and
Teachers & Lecturers, where its competitors are less present.
Social Insights on the Luxury Fashion Industry.Other key findings include:
Consumers control 99.63% of the online conversation surrounding luxury fashion.
Calvin Klein, Christian Dior, and Louis Vuitton received the highest scores overall in the five categories whileKenzo, Dsquared and DKNY sit at the bottom.
Chanel has the highest social visibility with an overall score of 100; Coach received the most positive sentiment
with an overall score of 100.
The analysis suggests that luxury fashion brands are missing opportunities to connect with their engaged audience
during key times of day. This particularly applies to Sundays and evenings between 9 p.m. – 11 p.m. while
consumers are actively pursuing them on social, yet these brands are inactive.

Video and photo content perform best on Facebook for luxury fashion brands, accounting for 96 percent of Facebook posts and receiving the most engagement via likes, comments and shares.
Overall, the conversations surrounding luxury fashion brands is predominantly female. However, the demographic breakdown may differ dramatically across brands, as each targets a unique consumer. Of the 32 brands analyzed, Chloé (82.37%), DKNY (80.00%) and Tiffany & Co. (79.83%) had the highest percentage of female interest while conversations surrounding Breitling (76.61%) and Paul Smith (61.00%) were the only that were predominantly male.
Interestingly, artists, executives, and students are most likely to discuss luxury fashion on social media, while
politicians have almost no interest in the topic. Artists represented 39.77% of the professions contributing to conversations surrounding luxury fashion brands overall. Executives (13.61%), Students (13.40%) and Journalists (10.81%) were also well represented in the luxury fashion discussion.

The most prevalent interests among those discussing luxury fashion were Music (25.84%), Fashion (11.37%) and Sports (6.56%).
In conversations directed at luxury fashion brands, black (26.81%) is the most popular color, followed by red (18.39%), white (15.22%) and blue (14.29%).
The most frequent clothing items mentioned in relation to luxury fashion brands are dresses (28.57%) and underwear (27.01%), followed distantly by coats (12.30%), shirts (8.94%) and jeans (5.96%). Interestingly, while dresses seem to be a staple across all brands, underwear is an extremely popular topic among a select few brands. Namely,underwear is the most discussed clothing item for Tommy Hilfiger (87.90%) and Calvin Klein (48.34%).
For the brands in this analysis, bags (48.88%), clutches (24.79%) and watches (8.43%) are the most commonly discussed fashion accessories.

32 Luxury Fashion Brands with Top Social Visibility, according to brandwatch:Chanel Social Visibility – 100;
Dior Social Visibility – 89;
Calvin Klein Social Visibility – 58;
Louis Vuitton Social Visibility – 88;
Ralph Lauren Social Visibility – 80;
Tiffany & Co. Social Visibility – 54;
Burberry Social Visibility – 68;
Gucci Social Visibility – 65;
Paul Smith Social Visibility – 49;
Rolex Social Visibility – 78;
Christian Louboutin Social Visibility – 79;
Cartier Social Visibility Social Visibility – 48;
Tommy Hilfiger Social Visibility 77;
Fendi Social Visibility – 47;
Coach Social Visibility – 58;
Prada Social Visibility – 52;
Givenchy Social Visibility – 27;
Michael Kors Social Visibility – 89;
Saint Laurent Social Visibility – 30;
Bottega Veneta Social Visibility – 23;
Chloé Social Visibility – 34;
Versace Social Visibility – 45;
Tory Burch Social Visibility – 34;
Dolce & Gabbana Social Visibility – 40;
Breitling Social Visibility – 29;
Armani Social Visibility – 48;
Lanvin Social Visibility – 28;
Hermès Social Visibility – 46;
Salvatore Ferragamo Social Visibility – 31;
Kenzo Social Visibility – 26;
Dsquared2 Social Visibility – 20;
DKNY Social Visibility – 27.