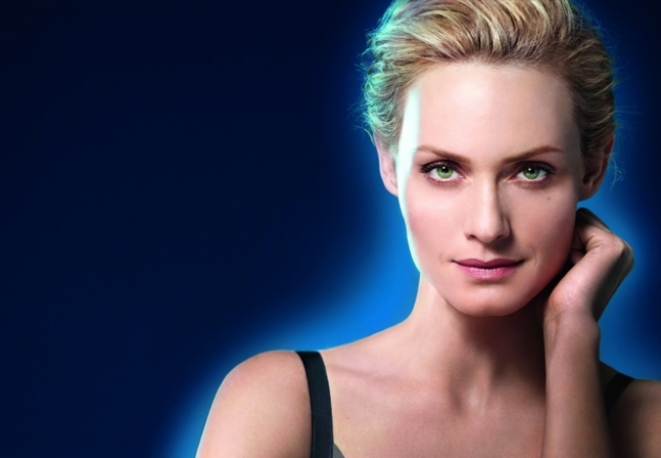 Actress Amber Valletta is the new ambassador for French luxury skin care Biotherm and its Blue Therapy anti-agein serum, developed and manufactured in research laboratories in Monaco, under the direction of biologist Lucien Aubert and his team of researchers.
Currently starring in the hit U.S. series Revenge, Amber Valletta shifted seamlessly into acting, with a career spanning some 20 films.
Committed to ecological causes, Amber Valletta also serves as the spokesperson for Oceana's Seafood Contamination Campaign, where she brings awareness of the dangers of mercury poisoning in various kinds of seafood.
"Actress, model and campaigner, at 38, Valletta is the epitome of a strong woman with the self-confidence to achieve her ambitions and campaign for what she believes in. Hers is a rare kind of beauty. Today, she brings her high values and that unique self-composed beauty to Biotherm as the face of Blue Therapy," states the luxury beauty brand.
In an exclusive study, Biotherm's Research Laboratories have compared chronological aging vs. acquired aging to obtain an surprising ratio: 80% of aging signs are mainly due to external aggressions, such as UV rays, pollution and stress, and can be visibly repaired. "The one contributor to signs of aging you can't fight against – time – represents just 20% of the problem," says Biotherm.
Based on this new scientific knowledge, Biotherm launched Blue Therapy, the "aging repair treatment with triple action on wrinkles, firmness and dark spots". According to Biotherm, clinical tests proved that the association of Blue Therapy micro and macro-algae extracts is 4 times more efficient when combined together, multiplying their individual benefits on key skin markers of aging.