Ford's golden era celebrated at 2016 Pebble Beach Concours d'Elegance.
Every Major Race-Winning Car is Expected to Be in Attendance.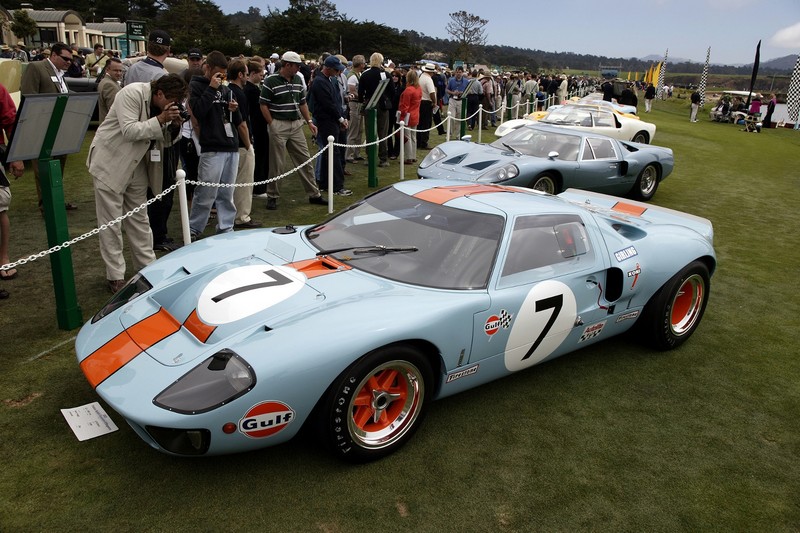 The GT40 class at the 2016 Pebble Beach Concours d'Elegance is going to be a reflection of all of the legendary race car's great accomplishments. The owners of every Ford GT40 that won a major international race have agreed to send their cars to one scenic swath of green this summer—the 18th fairway of Pebble Beach Golf Links.
Fifty years back, in 1966, GT40 Mk IIs finished 1-2-3 at the 24 Hours of Le Mans, snapping a six-year winning streak by Ferrari and recording the first win by an American constructor. Ford's Ferrari beaters went on to win again at Le Mans in 1967, '68 and '69, and they also recorded a host of victories at other venues—at Daytona, Watkins Glen and Sebring; at Rheims and Montlhéry; at Silverstone and Snetterton; at Spa; at Monza; at Kyalami; at the Nürburgring and Zeltweg.
All of the GT40s that won these races are headed to the Pebble Beach Concours d'Elegance on August 21.
"We're honored—and thrilled—to be able to unite all of these historic champions," said Concours Chairman Sandra Button. "This is an unprecedented gathering—one that has excited every member of our Selection Committee and one that promises to make history in its own right."
Many of the racing greats who drove these cars to victory will also be on hand; Chris Amon, Dan Gurney, Jacky Ickx, David Hobbs, Brian Redman, and Sir Jackie Stewart are all hoping to attend.
"Fifty years have scarcely dimmed the momentous achievement of the designers, mechanics and drivers who swept the 1966 24 Hours of Le Mans for Ford," stated Edsel B. Ford II, board member of Ford Motor Company. "I attended that race with my father, and the thrill of that day remains vivid in my mind. This is but one among the many victories from that golden era that will be celebrated by the historic gathering of cars and drivers that the Pebble Beach Concours is bringing together this August. I am looking forward to the event with great anticipation!"