"For Ai, the most important attribute of the artist's existence would be reason, which had failed to illuminate anything in the China of his youth." —Uli Sigg
Today Ai Weiwei enjoys a reputation far beyond the art world. While his vast social or performance-based interventions and appropriated object-based artworks have secured his place as one of the world's leading conceptual artists, Ai is equally known as a social media phenomenon, a political activist, and an outspoken champion of free expression in his native China, where he earnt an 81-day police detention in 2011.
A new limited edition book, signed by the artist and published at Taschen, is the first comprehensive monograph on Ai Weiwei's life and work. Compiled in close collaboration with Ai and with direct access to his own archives, it explores the artist's particular brand of expression and activism over more than 700 pages of images and text.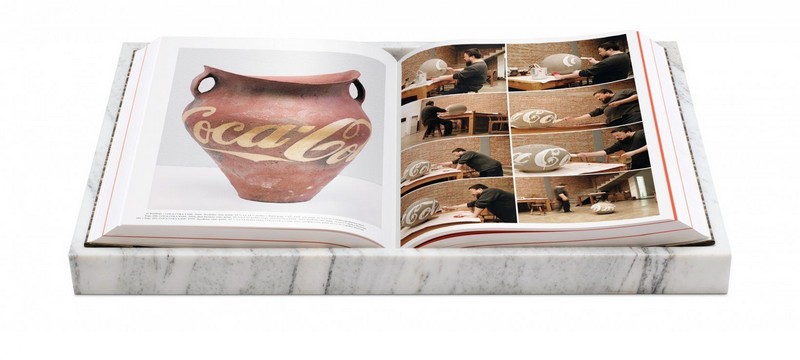 "This luxurious, silk-wrapped tome takes the cake for summer's most sumptuous gift book." "Quote." —The Huffington Post —ARTNews.com
Over 700 pages of the luxury book are featuring a number of previously unseen images, from photos taken during ai's time in new York to production shots of large installations in the workshop and pictures from his studio.
The essays are signed by Uli Sigg, Roger M. Buergel, Carlos Rojas, William A. Callahan, and James J. lally, as well as numerous statements derived from interviews with ai Weiwei, conducted especially for this publication. The full-page laser-cut designs are based on traditional paper cuts by the artist. Each copy is wrapped in a silk cloth, which reproduces a detail from his work Straight, a reference to the Sichuan arthquake of 2008.
Chinese culture, and essential to Ai's art, is the capacity to fuse contradictions into one single proposition. To put it simply: while in a Western mind, according to our Cartesian binary logic, a thing is either this or that, in a Chinese mind that same thing may well be this and that at the same time.
Take Whitewash (1995–2000) as an example: 132 Neolithic vases, each one a beautiful piece of art and a relic, but one fourth of them completely covered or destroyed by white industrial paint. The work fuses two contradictory paradigmsof art creation: the Western paradigm of "avant-garde" art, which means a radical destruction of tradition, breaking with the past to create space for entirely new thinking; and the classic Chinese paradigm of respect for tradition and therefore of art creation as an evolving continuum drawing from the wealth of Chinese culture
The art edition limited to 100 copies, all signed by ai Weiwei, included a specially designed sculpture, executed inthe artist's workshop: a marble book. Unfortunately, this edition is sold out.